There are only a few needlework magazines that I regularly subscribe to: Inspirations, Piecework, and Sampler & Antique Needlework. Occasionally, though, other needlework magazines will catch my eye when the feature a project that I find particularly appealing. Here's one such case…
In Cross Stitch and Needlework Magazine – the November, 2009 issue – there is apparently a project by Phillipa Turnbull of The Crewel Work Company. I haven't actually seen the issue yet (maybe some of you have?), but on the Cross Stitch and Needlework Magazine website, under their freebies, they have step-by-step photo instructions for a project titled "Jacobean Idyll" by Phillipa Turnbull (that's a PDF link). According to those instructions, the project is in the November, 2009, issue of the magazine.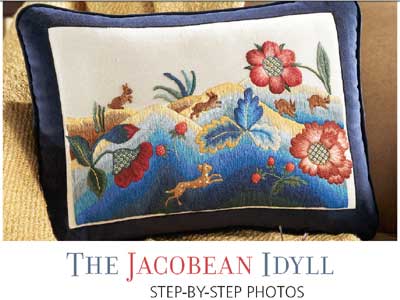 Is it not lovely?! I am tempted to invest in the November, 2009 back issue!
Even if you don't have that issue of the magazine and you just wanted the instructions for reference for crewel work, it's worthwhile to check out the PDF of Jacobean Idyll. If nothing else, you can revel in the colors! I think the piece is quite magnificent.
The November, 2009 back issue of Cross Stitch and Needlework Magazine is available on their website right now, but I was a little miffed at the cost of shipping one issue, actually – the cost of shipping is about the same price as the magazine!
Another thing that suprised me was that this piece – which is so colorful and really eye-catching – does not seem to be featured on the front cover!
While you're squizzing around the Cross Stitch and Needlework Magazine website, you might also enjoy these crewel stitch instructions (PDF) – black and white drawn diagrams for a variety of crewel stitches.
If I ever bite the bullet and pay the shipping cost for this issue of the magazine, I'll let you know a bit more about this particular project. It's so pretty, that I'm mightily tempted! And I do have a nice piece of linen twill that would serve as a perfect ground fabric….. (See, I never have a hard time talking myself into such things!)
Enjoy the resources!