Desperately, I hunted through my studio for a collection of blackwork threads that I knew were there somewhere! Like a woman possessed, I emptied every cabinet – took out every bin, bag, and basket that could harbor the elusive collection of black silk threads that I have been hoarding for several years, in anticipation of just the Right Embroidery Project. All to no avail! My studio is now a mess awaiting re-organization! And hours and hours were spent – wasted in seeking That Which Could Not Be Found.
When it comes to finding things, my mother always says, "You'll find it in the last place you look," and you know – Mom is always right. On Monday afternoon, after digging through and unpacking everything in my studio, I returned to the house, resigned to foregoing this Blackwork Idea bouncing around in my head!
And as I stepped into the living room, I took a look at a box sitting on my sofa. While setting up the goldwork and glove projects, I had brought in my box of silk threads. Keep in mind, I had already been through the box looking for the blackwork threads! It was the first place I looked!
But a nagging little voice inside my head said, "You better look through it one more time." I opened the box. I picked up a package of colorful silks, and what to my wondering eye should appear?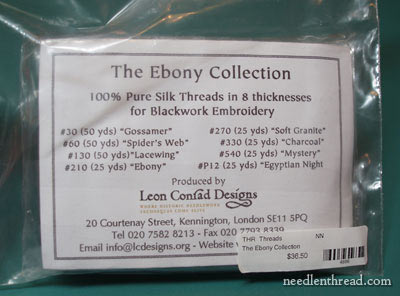 The whole package of threads – just sitting there!
Aaaargh! If you could see the MESS in my studio, you would understand my frustration! Though happy to have the threads in my hand at last, I can't seem to overcome the trepidation of facing the clean-up job! Especially when the threads weren't out there in the first place!
C'est la vie. And Mom was right – they were in the last place I looked.
This is a collection of 8 different weights of black silk thread, assembled by Leon Conrad specifically for blackwork. I don't know if the collection is still on the market; I acquired these about three years ago.
Once I had the threads in hand, I was super-enthused to go forward with the preparation of what I'm afraid may turn out to be a really zany project.
I started by selecting a piece of linen – Alba Maxima, by Legacy. This is a white linen, around 40 threads per inch. When I cut linen for a project, I always square it up by removing threads on all four sides, until I have perfectly straight lines. I then trim off the shaggy edges left from removing the threads. This way, I can be certain that the fabric is perfectly square and it gives me a straight edge to line up when tracing the pattern and when mounting the piece on a frame.
Once the fabric was ready, I traced my design. Oh. Yes. It is a FISH. I don't know why the fish – it is something that I sketched up when doodling, and my plan is to reproduce the doodling in embroidery. I will eventually show you the pen and ink drawing – but not quite yet! First, I want to see how my idea works out. (I don't want you to have any preconceived notions – that way, maybe we won't be disappointed if the whole thing flops!)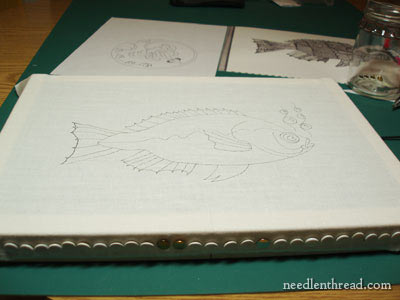 The next step – mounting the linen on stretcher bar frames. I use Evertite frames, because they can be tightened and loosened as you work. They're positively wonderful frames, worth the investment! I'll never go back to regular stretcher bar frames again.
The framing done, I'm ready to stitch!
So far, I haven't had that much time for stitching. I managed some really ugly lips!
This is not going to be a traditional blackwork project. Instead, I'll be using a variety of surface and filling stitches to work the project, in a variety of weights of black thread. I think I'm going to like this project – it's spontaneous and unplanned, in a sense. I'm not marking off filling areas or designs for filling. Still, though I'll be stitching randomly, I do plan for there to be some sense of organization and design to the piece. We'll see if it turns out anywhere remotely close to the idea in my mind!
I'll keep you posted!