How do you store and carry your larger embroidery projects? I'm a fan of tote bags for both storing and toting, personally. I am a sucker for tote bags of all types! With that in mind, I thought I'd show off one of this year's Christmas presents. Knowing I love tote bags, Mary Grace of Hooked on Needles sent me a fabulous one, and here it is….
The one thing I require in a tote bag is room – I have to be able to stick my embroidery project on the frame in the bag, along with all the tools, threads, and so forth required to complete the project. When I've got a needlework project stored up in a tote bag, I feel secure – like I can grab it and go at any time, even if I'm just going into the other room! A tote bag with a project nestled within is great for long trips, for short trips, for those times when you know you're going to be sitting somewhere, waiting…. and waiting…. Well, in general, I just like tote bags for my projects!
I like the fabric on this bag, and I love the coordinated lining! But most of all, I like that it can do this: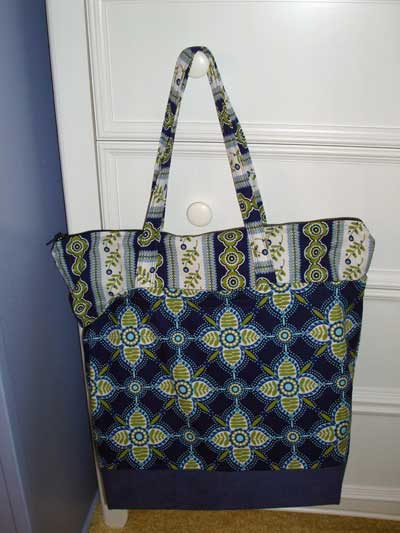 See the difference? The inside facing of the bag – made from a coordinated fabric – is not sewn down to the inside of the bag. It folds out for added space, and it can still be zipped shut.
Closing is important! Raindrops off roses, whiskers (and other hair) off kittens, dust that might settle and snow from my mittens – all must be kept off the embroidery! And so having a tote that expands in height and that zips closed is terrific!
Roomy isn't the word for this one – I can easily fit an 18″ x 20″ frame in here, along with all the necessities to complete the framed-up project. In fact, if I really wanted, I could pretty much fit all my current pending / possible projects in this bag! It's very roomy.
There are a couple separate pockets inside the tote.
And there's this little hidden pocket fitted inside the bag facing, where I can keep things I don't want to lose.
And – a nice little touch – there's a key hook on a nice long strap.
It's a terrific tote! And the fabric is fun! And the construction and finishing – excellent!
If you're looking for a nice tote for your work and you're not into sewing your own, you can contact Mary Grace at Hooked on Needles. Right now, it looks like she's selling website samples and a few tote bags, but I'm pretty sure she'll also do custom orders, if you have your own fabric and patterns.
I was lucky to receive this as a gift, because we drew each other's names for a Christmas swap. I bet you're dying to know what I made and sent to her.
I'm afraid I was a fink and didn't send anything hand-made. But hey, I included some entertainment for her kids – some audio stories – which is even better! She can plug the kids in and sew in peace.
See, I think of everything.
(Ok, fine, I'm a fink.)
Thanks, M-G! I love the tote, and it's serving its purpose well!