Have you tried Valdani threads? I haven't. But I'm going to. I've heard from readers off and on who have inquired about them, but I didn't know much about them, and since I haven't tried them, I can't really give an opinion on them. But, like I said, I'm going to try them!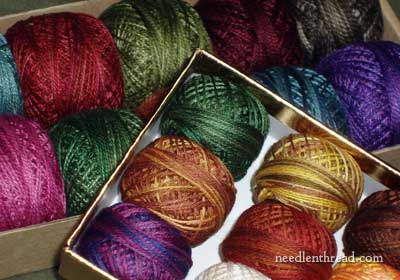 In the meantime, I'll tell you a little bit about the threads, and later, I'll tell you how I like stitching with them.
Valdani is a thread company that produces hand-dyed, colorfast threads for needlework of all kinds, including floss and perle cotton for embroidery, as well as crochet cotton and yarns. What makes Valdani unique is that the company sells hand-dyed threads that are guaranteed colorfast.
Over-dyed embroidery floss is pretty popular today. The subtle or bold variations in color that can be achieved by hand-dyed and over-dyed threads are very attractive to needleworkers. Hand-dyeing and over-dyeing achieve a nice, gradual variation in shade, so that the change on the embroiderer's work is subtle and slow, rather than abrupt and blocky. Such gradual change in shading helps give finished embroidery (that might otherwise appear flat and stark) a certain depth and richness. Especially in the counted cross stitch sphere, where monochrome motifs are quite popular, the stitcher might prefer using an over-dyed thread that doesn't change color, but rather changes shade smoothly and subtly. Valdani produces both tone-on-tone colors as well as multi-variegated colors with a high contrast between colors.
The notion of spending hours and hours of stitching and then having to worry about whether the dye on your floss will run if the piece has to be rinsed can be a wee bit disturbing – and hence, it's nice to know there's a thread company out there that's producing hand dyed threads that they guarantee are colorfast.
Valdani also produces three-strand floss, which is meant ideally for Punch needle (it doesn't have to be separated or pre-cut – it's just fed from the ball straight into the punch needle), but also looks to me like it might be a really nice, ready alternative to stranded floss for surface embroidery. I'm going to try this stuff out in some surface work to see how I like it.
If you like pearl cotton, Valdani produces three sizes – #5, #8, and #12. All sizes are wound in balls. That alone is pretty enticing – I prefer balls and spools to skeins any day!
Finally, Valdani also produces – or is beginning to produce – hand dyed silk that is guaranteed colorfast. (Silk! Ahhh. Silk. I love it.) In June at the TNNA Needle Arts Market in Columbus, Ohio, they will be launching a beautiful pearl silk that's hand dyed in their own color and shade range. The original silk is Au Ver a Soie's Soie Perlee, so it's good silk. I can't wait to see the range they come out with!
If you go to the TNNA market (lucky you!!), you should look for it!
So that's what I know about Valdani. The only thing lacking now is the personal experience of stitching with their threads.
But since I haven't stitched with them, I thought I'd ask you – have you used, or do you use, Valdani threads? What do you think – do you like them? Are they a thread of choice for you? Do you order them or buy them regularly? Are they stocked in your local needlework shop? Any info or opinion you have, do feel free to leave a comment! I'd love to hear your take on this thread!
In the meantime, I'll stitch a bit with it, and then I'll let you know what I think!
Thanks so much for your input on yesterday's post on the Floral Glove project. I'll update you on my "fix" soon! There were heaps of excellent comments and lots of good discussion on the subject, so don't hesitate to jump to the comments section on the Floral Glove post to read some good input!