I am a firm believer that All Things Fabric are enhanced when embellished with hand embroidery.
Er… I was a firm believer. My conviction on the topic is a bit shaky right now!
The other day, while in a fancy-schmancy little embellishment shop that any Fiber Fanatic would love (Florilegium, in Parkville, MO), my eyes, which were already gobsmacked with visual stimulation, rested upon a display of vibrant fabrics. But they were not just any fabrics.
They were marbleized fabrics.
Seeing them took me back to college days, when I used to judge a book by its endpapers. I loved – and still do – old books with marbleized endpapers. I didn't necessarily care what was in the book – but those marbleized endpapers mesmerized me. Since then, I think I've grown a little more mature about the way I judge a book. I actually make it beyond the endpapers now.
The idea of marbleized fabric was thrilling! Here is all that I love in endpapers, without feeling guilty for not reading the book! And on top of that, I told myself, I could justify a purchase by considering a plan for embellishing the fabric with bits of embroidery. So – being the shameful impulse shopper that I am – I bought some samples of marbleized fabric.
Really, can you blame me?
But the fact is, the more I look at the fabric, the more I hesitate to consider embellishing it further. Does it really need embellishment? Wouldn't embellishment ruin it?
Do marbleized fabric and embroidery mix?
That, I don't know. I do believe my excuse for purchasing marbleized fabric….
… and marbleized ribbon….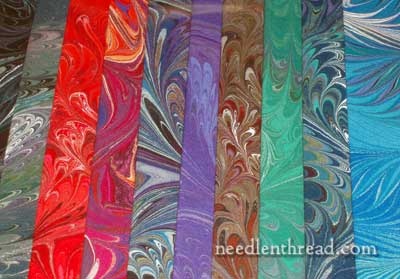 … and more marbleized fabric… isn't holding water right now.
Considering the work that goes into the marbleization process – and considering the fact that only one piece of fabric is done at a time, and the fact that no two pieces of fabric are alike – the marbleization process is really amazing. It is quite an art on its own. And it's beautiful when it's done well.
But I think I'm going to have to change my justification for buying the stuff. Maybe I should just say, "I bought this amazing marbleized fabric so I could post pictures of it on my website." And maybe I should leave it at that.
What do you think? Do they mix? Would you attempt embroidery on this type of fabric?