If you enjoy needlework and you spend a lot of time at it, you know the value of taking care of your eyes, right? I'm going to talk to you today, very candidly, about a sore spot of mine. I'm going to be open and honest. I'm going to talk about…. *gulp* ….
….. my magnifier light.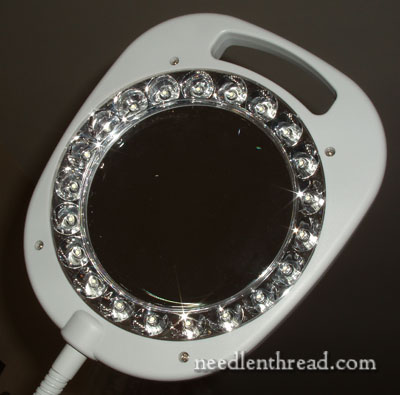 When it's stretched above me and I look at its undersides, my magnifier light reminds me of something out of… I don't know…. Body Snatchers? But after being in my possession for not even a day, I fell in love with this little device.
You see, it all began this past spring.
I crept past 40 this year.
And I found out this summer that my eyes definitely crept past 40, the naughty things. In fact, taken together, if you think about it, they're past 80. (But let's not think about that.)
My optometrist, when I went in for the first eye exam in five years, said, "You'll probably need bifocals," to which I promptly responded, "Pshaw!"
The exam played out as he predicted, and I procured my first pair of progressive lenses. No one knows I need them (ok, now everyone does), and I don't really care that I need them, but I was a bit surprised that my eyes had played this Horrid-but-Apparently-Predictable Trick of Nature on me, without my ever realizing it.
And then, while I was out shopping a few weeks ago, I encountered a Magnifier Light.
I walked into the shop. I'm pretty sure beams of light from heaven fell upon the thing.
I walked up to it. I turned it on.
And I said, "WOW."
I couldn't believe the difference in what I could see. First of all, the light from the lamp was fantastic, and secondly, the magnification of the piece below the magnifying lens was a sight to behold!
I wasn't actually thinking of the magnifier for me at the time, to tell you the truth. My niece, who is 17 now and loves needlework and tiny paper crafts, is far-sighted, and detail work, even with her glasses on, is difficult for her. Her birthday being right around the corner (the next day, actually, and I had no idea what to get for her), a magnifier light was a perfect gift! I walked out of the shop feeling quite inspired and very happy in the knowledge that I had just secured my position as The Favorite Aunt.
And then I went back in and got one for me, too.
When I stitch, I use really good lighting, and for regular stitching, I don't absolutely need a magnifier, as long as the lighting is good. But I'll tell you what – the magnifier sure makes a difference, whether I need it or not. It makes everything so clear. So Visible. So …. Large!
Since using the magnifier, I've caught little mistakes that I've been making – like picking up just a tiny fiber from another thread, accidentally. Or "just missing" the hole and picking up a tiny thread of the fabric on the way down. These things aren't so noticeable to the naked eye, but it's nice to know that I'm not doing them anymore.
I've also discovered that stitching on 40 count silk gauze is a whole lot easier with magnification. I could "see" it before, but I don't think I was seeing it well.
I admit it. My eyes aren't what they were, and magnification helps. It's not necessary on all types of stitching that I do (for example, on the felt, or on the spot sampler), but it's nice to use, anyway. And for certain stitching (high count fabrics, 40 and 63 count silk gauze), I don't mind admitting that it's necessary! It's just part of life, you know. Besides, eyes are precious. We should take care of them!
And I'm so happy we have solutions for people who do have eyesight problems! A hundred years ago, folks didn't enjoy such a luxury. They just stopped stitching – or suffered severe eye strain.
So here's my question: do you use a magnifier? If so, what kind, what do you like about it, and do you use it out of necessity or just because you like seeing your work magnified?
Tomorrow, I'll give you an in-depth review of the magnifier light I bought, its pros and cons, and hopefully provide a few resources, in case you're looking for one. (It'd make a jolly Christmas present!)
Enjoy your Saturday! See you tomorrow!