Living in rural Kansas, I don't have the advantage of being associated with a particular embroidery guild in my area. However, I'm still a member of the EGA – the Embroiderers' Guild of America – and though I've never attended a guild meeting or been to an EGA event, I am glad I'm a member. If you take your needlework seriously and you think it's a life-long passion that you'll keep pursuing, you might consider becoming a member, too.
Because I'm not near a local chapter of the EGA, I'm what they call a "Member at Large" – just kind of floating out there, but still in tune with what's going at with the EGA, and still able to participate in their extensive correspondence courses if I wanted to, attend their functions, take advantage of their online "members area" resources on the EGA website, and receive their publications. One day, I even came across an unexpected advantage to being a member – I was visiting a couple different needlework shops while on vacation a few years ago, and found out that both shops offered a 10% discount to EGA members. (Hey, it was a happy surprise!)
So membership has its advantages! But today, I wanted to show you another advantage, and that's the EGA's regular quarterly publication, NeedleArts Magazine.
NeedleArts Magazine comes out four times a year. In past years, when it arrived in the mail, I'd flip through it lackadaisically and set it aside. It didn't grab my interest much. But lately, I've noticed some changes in the magazine… or are they changes in me? Well, whatever the case, I've grown to look forward to each new issue, and I'll show you why.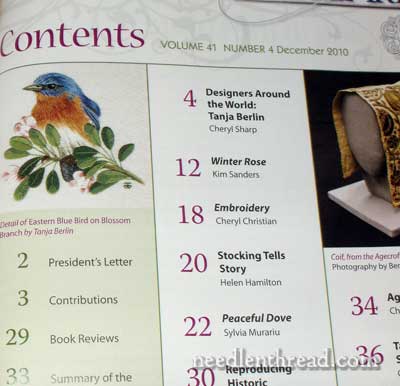 The contents of NeedleArts Magazine has become, overall, more interesting to me. For example, in the latest issue, there is a very nice in-depth article on Tanja Berlin. I've always loved her work.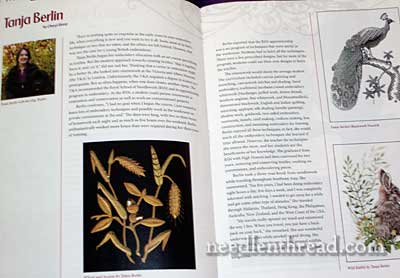 The article's interesting – and it's packed with photos of her gorgeous embroidery.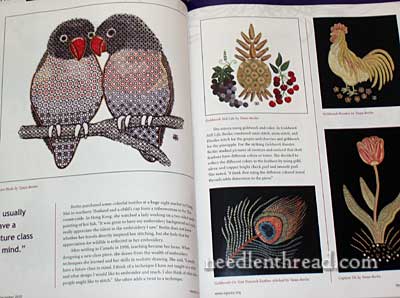 I'm a frequent visitor to Tanja's website and many of these pieces are familiar to me, but seeing them in print is somehow different. It's nice to meander through a magazine, reading an interesting article and enjoying gorgeous examples of needlework – away from the computer!
All the articles in NeedleArts have become a little more interesting, in my opinion. They stimulate interest on a more universal scale, by talking about general subjects in the history of embroidery, for example, …
… while still including articles that are more particular and personal.
Another thing that I've noticed about the more recent issues of NeedleArts Magazine is that there are quite a few more projects in the magazine. The projects presented are small enough to work relatively quickly while getting a feel for a given technique. This is Great!! I'd like to see more magazines produce smaller projects on various techniques – it's a great way to dabble to see if you'll like a technique, before investing a lot of study, time, money, and effort into it.
In this issue, for example, there's a nice little project for making a pulled thread bookmark with a touch of whitework embroidery on it. The instructions include graphs, stitch diagrams, and step-by-step written text.
The beautiful needle lace dove on the cover is one of the several projects in this issue.
Step-by-step directions are given, with excellent, clear photos.
This issue also features an engaging article on reproducing historical needlework, and it comes along with a little project to work as well.
The back cover of the magazine features one of Tanja Berlin's current teaching projects (a gorgeous, colorful Goldwork Or Nué peacock feather). Wow. It's a nice big, clear photo of it, and it is Stunning. There's just somethin' about seeing it in print….
I've really enjoyed the recent issues of NeedleArts Magazine! When I received the newest issue the other day, I thought to myself, "You know, this is worth writing about!" I don't know if they've changed, or if I've changed, but whatever the case is, it's a change for the better.
EGA membership is much more than just personally beneficial, too. The EGA is a non-profit organization devoted to promoting the needle arts and keeping them alive. As members, we help support their educational and promotional endeavors. This means that paying for membership is also supporting a worthwhile cause.
So if you're not a member of the EGA, why not look into becoming one? You can find EGA membership information on the EGA website – the cost for a "Member at Large" is really reasonable. And the benefits are worth it! Think of it as a Christmas gift, not just to yourself, but to all those who benefit from the work of the EGA!
Are you a member of the EGA? Do you attend regular guild meetings? What's your favorite part of being a member? If you're not a member, have you ever considered becoming one? I'd like to hear what people think of belonging to this network of guilds… is it worthwhile and beneficial? Can you think of other reasons why it might be worthwhile, that I've missed? Any thoughts at all on the subject? If so, feel free to leave a comment and discuss them!
Tomorrow, I'll be posting some "comparison" photos of two ecclesiastical embroidery pieces. See you then!