Who woulda thunk it? I am using a thimble! I have never used a thimble for embroidery in my life – except once, in a trial-and-error-this-thing-is-ridiculous situation.
I've always found thimbles awkward and clunky when I'm trying to embroider. My grandmother used to use one, and I suppose that it's just a matter of getting used to the things before they become second nature. But I've never gotten used to them, and I've never had much use for them, when I'm doing embroidery. (Hand-sewing is a different story, for a different day.)
Lately, while working with a tiny needle (it's always the tiny needles that get you!), I developed what seemed to be a permanent hole in the side of my first finger where I habitually push on the eye of the needle as it enters the fabric. In the past, I've dealt with this little sink hole (which the needle invariably locates and enters without compunction!) with a dab of superglue. See, my Dad has always sworn by superglue for these types of things. Superglue, in my house, cures all kinds of skin cuts – from chapped and splitting winter skin to paper cuts… to needle holes. Think "Big Fat Greek Wedding" and Windex, only for us, it's superglue. But it's not the best thing to put on skin, and it takes forever for the skin to soften up after it's been superglued.
When hand quilting, I've used leather thimbles and they work ok for me. And they aren't that great when working with finer silk embroidery threads, as the threads tend to catch on them.
And then, I met this thing. Yes, it's a thimble, and yes, it's hard and round and not the most comfortable thing to wear on one's finger, but it's a sight more comfortable than a regular thimble, and it's a lot easier to work with.
The thimble above is open at the top so that the finger tip is exposed, but the sides are protected. The metal thimble is covered with a skin of yellow rubber-like material, so that the needle doesn't slip on the metal of the thimble.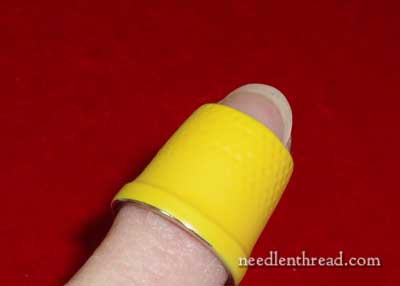 These open thimbles come in three sizes – small, medium, and large – and I found that the medium fits very well right over my first finger, almost down to the first knuckle. It covers perfectly the spot that takes the eye of the needle in the side of the finger. The funny thing is, I think most people use thimbles on their middle fingers, don't they? I do when I sew by hand, but not when I embroidery. When I embroider, it's the pointer finger on my hand that needs help!
Don't get me wrong. I'm still not a gung-ho thimble user when embroidering, and I'll probably never use one full-time. And this one does take some getting used to, but I've found it less awkward than a full thimble. It's perfect for when I need it. Last night, thanks to my Little Rubbery Yellow Finger Buddy, I successfully maneuvered a tough spot that involved sunk goldwork threads and tiny stitches – with nary a needle sliding into the skin. That's when I was convinced that this open thimble is a handy tool to have in the needleworker's box.
And that brings me to some questions: Do you use a thimble? Have you ever used a thimble? Do you like using thimbles? Do you have any recommendations for using thimbles? And, if you do use a thimble, at what point in your needleworking life did you start using it? Did you use one from the beginning, or did you pick it up later on? For some reason, I've got this idea that if you learn to sew with a thimble, a thimble is the most natural thing in the world. But if you don't learn with one, then the thimble is a foreign object that the body wants to reject. What do you think? Leave a comment! We want to know!
And this morning, I'm on my way back to reality. After a good bit of snow and bitter cold (with the first two days of school after vacation cancelled!), it's time to head back to school. The fact that it's below zero this morning doesn't make that proposition too appealing. Nevertheless, I shall brave the elements and go to work! E-mail responses over the next couple days might be a bit slow, but if you do drop me a line and I can't respond right away, I'll catch up with you by the weekend.