Fashioning Fashion: European Dress in Detail, 1700-1915 is not a needlework book. But it's a book that will fascinate serious embroiderers who have an interest in textiles, clothing, and history. Or just in pretty pictures…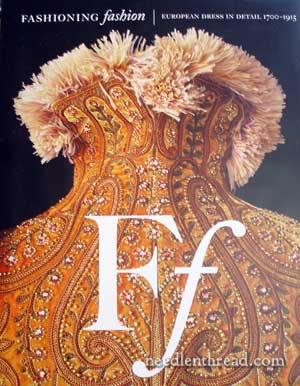 The book is the catalog for the Fashioning Fashion exhibit that's currently running at LACMA (Lost Angeles County Museum of Art). In fact, the exhibit ends March 27th, so if you live in the area and you haven't been, now's the time! Go! GO!!!
And please take me with you!
When you can't attend a major museum exhibit, the next best thing is to purchase the book that is often published as a "catalog" in conjunction with the exhibit. And so that's what I did. I would love to see this exhibit in person, but I'm afraid that once again, vicarious experience is going to have to suffice!
If you, like me, have to do this one vicariously, then get the catalog before it's too late! Once the exhibition is finished and once the books are sold, it's gone.
What will you find in the book? Besides good information on historical dress, you find fantastic photography of the exhibit pieces, including many, many close ups of gorgeously embellished clothing.
Normally, you'll see the photo of the full piece, juxtaposed with a close-up detail of it. And, oh… the details!
I just love the details!
You'll find cataloged herein not only a grand old pair of highly embellished socks, but shoes and parasols, bags and gloves, and all those accessories and undergarments and everything else that has gone into clothing the European between the years of 1700 and 1915.
Did I mention close up detail? Poring over the photos will inspire you!!!
And did I mention that I want to go?
I love Kansas. But there are times… there really are times…. when I feel somewhat in the middle and quite far away from the edges!
Go the exhibit! If you can't go, do it vicariously and get the catalog while the getting's good!
Where to Find the Book!
You can find the catalog available through the following book affiliates:
In the US, Fashioning Fashion is available here through Amazon.