This week, I've spent a lot of time (a LOT of time) getting my workroom cleaned up and organized, in anticipation of two things: 1. several Big Projects coming up; and 2. that glorious time of year called Summer, which is when I get most of my needlework-work and major blog work done.
Between cleaning up the Disaster Zone that's my workroom and an Incident with a Needle, I've learned again (for the umpteenth million time) one of Life's Most Valuable Lessons.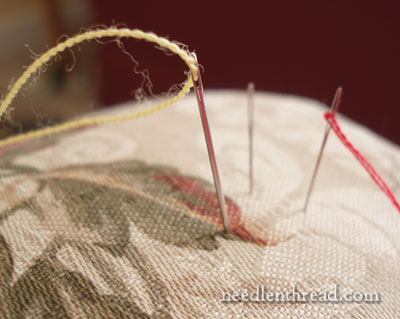 Adventure #1: Encounter with a Needle
This is the needle in question. It's your typical embroidery needle, and it is embedded in the arm of my sofa. (Can you guess where this is going?)
Needles embedded in the arm of a sofa have an uncanny way of embedding themselves in my arm, too, and this little fellow is no exception. Unlike previous encounters between arm and needle, this recent meeting was vicious and mean. I'd take a photo to prove it, but that would be like trying to put my elbow in my ear. You'll just have to trust me on this one!
Adventure #2: The Disaster Zone
I'd love to post a "before" photo of Ye Olde Messy Workroom, but in fact, I didn't even think to take one. And while I'm all for humility and all that, I don't think my self-esteem would stand up to displaying the mess!
After half a semester of school and lots of "rush jobs" to take photos and write for the website, my workroom was a Royal Wreck! But the majority of the clean up was simply putting things away. It took me hours and hours – of rearranging, reorganizing, shifting supplies, sorting books and magazines to make space, and on and on. But really, it was just Putting Stuff Away!
For a couple weeks, the job has been hanging over my head, kind of like a looming mountain that I was loathe to scale. But finally, I did. And I am so much happier now that everything is cleaned up and put away!
Now that things are in order, I'm able to get down to some serious needlework and blog preparations and to accomplish a lot more than usual, in a lot less time.
The Lesson
The Lesson I learned can be found in the sage advice that I've heard over and over again since I was a wee child:
A place for everything, and everything in its place.
I can't help asking myself how much more I could have accomplished in the last month, if I had put things away after using them? And my forearm would not be suffering, either!
I also learned a little secret that my niece has already figured out: Cleaning up a mess – whether it's birthday cake & ice cream, or a workroom – is not always a bad thing! Sometimes, you just have to do whatever it takes to get the job done.
What about you? Are you organized and meticulous in your needlework habits? How do you cope with a clean up job when you can't avoid it any longer? Any big secrets to your organization? In chatting with other needleworkers, I find that organization is a common subject – so we can all benefit from each other's experience! Feel free to leave a comment and share any advice or ideas you have on keeping your needlework supplies tidy!