Way back in January, I mentioned the website Talliaferro Classic Needleart, and pointed out some of the gorgeous crewel designs that Anna has been developing. Well, Anna's first crewel embroidery design – the Royal Persian Blossom – is finally published and available, so I thought I'd show you what the design packet looks like. This is crewel embroidery on a grand and glorious scale!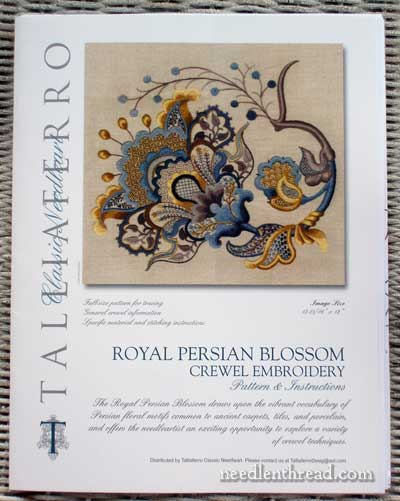 This is not technically an embroidery "kit" – rather, it is a design and stitch guide for the project. There are no actual stitching materials here, which works out well for those of us who have a stash. We don't have to pay for the full kit – fabric, threads, etc. – but just for what we need to work the design. It also allows stitchers to make some creative decisions about the design – maybe to reduce it in size and stitch it with cotton or silk, for example.
Inside the design packet, you'll find a series of pages that include an introduction to crewel work; a list of equipment and materials necessary for working the design, along with notes on selecting fabric, transferring the design, using crewel yard, tensioning stitches correctly, and so forth; an Appleton color chart (with room to note substitutions, if you decide not to use Appleton); a full-sized pattern, ready to trace (which can be enlarged or reduced, if you want to change the size of the design); a page with stitch diagrams of eight stitches; and a complete stitch guide that breaks down each element of the design and instructs the stitcher through that element, using diagrams. On the cover of the packet is a clear color photo of the finished design, to use as reference.
The packet is easy to read and it is written in an encouraging and friendly style. There are little notes of encouragement here and there, like this one: "Crewel embroidery is mechanically very simple; you needn't be afraid of it." The designer rightly points out that individual stitchers have their own style and that your own stitching is distinguishable, "as your own penmanship." She tells the stitcher not to be alarmed if your work does not come out looked exactly like another needleworker's work. I agree with that! It's easy to become too exacting in our replication of needlework designs or kits, which risks our own needlework losing its personality. So I thought that was a very good point!
You'll see that the stitch guide is made up of simple diagrams of the 8 crewel stitches used in the design. The diagrams are further explained by text. For beginners who haven't encountered all of these stitches before, the diagrams should suffice to help you visualize the stitch, but in case it isn't enough for you, don't worry – you can find all the stitches on video here on Needle 'n Thread (My goodness. Was that a shameless plug?!).
There's a very nice "map" of the design, that corresponds with the stitching instructions for each element.
And the full design, ready for tracing, is included – you can see here that it is quite large, the finished piece (if traced in the pattern size here) is approximately 16″ x 13″, I think.
Here's a glimpse of the instruction for the individual elements in the design. Clear stitching instructions are given for each bit of each element. There are also spaces left to note substituted color numbers, in case you make substitutions in your threads.
So that's the instructional packet – a nice tidy bundle that slips into the cover folder.
Here's the line-up of Appleton threads used for the design (if you choose to use Appleton).
I haven't worked through the design yet – and it isn't likely that I will for a while. But I love the design. I think it is a nice combination of classic and yet new. It's striking! And I'd like to stitch it one day (maybe a stitch-along for at least part of it, here on the website someday? We'll see!) Even though I haven't stitched through the design instructions yet, from reading them, they seem very clear to me – easy to follow, easy to understand. I would note, perhaps, that the sheer size of the project and the reliance of it on especially satin stitch and long and short stitch, might put the project a little out of reach for hesitant beginners, but for determined beginners, I think it's within range. I'd say the range of experience required for the project, then, would be from "determined beginner" through advanced needleworkers.
You can find the design and the thread pack currently available through Wooly Thread. (In the thread pack, you get 22 skeins of Appleton for $25, which is a good deal – it'll save you over $5, compared to purchasing the skeins individually. The design pack itself is priced separately, at $30). You can also find the designs available directly through Talliaferro – and you can also find instructional packets for the smaller elements in the design, too, if you want to tackle the design in parts. For fabric, the original project was worked on linen twill from the Crewel Work Company. This linen twill is slightly heavier than Legacy's linen twill, and it is a darker oatmeal-ish color. An alternative fine linen twill that would work well is Legacy's linen twill, which you can find through local and online needlework shops that carry Legacy linen from Access Commodities. It's a lighter linen twill, weight-wise, and lighter in color, too. But I'm thinking it'll make a beautiful ground for this design.
If you want to see some more Really Gorgeous Crewel Work, check out Talliaferro Classic Needleart for more designs that are underway. And if you're planning on stitching this design, let me know! Maybe we could hitch up for a stitch-along once the summer's underway a bit!
Have a great weekend!