One of my summer projects is to make up color cards for different embroidery thread sets that I have – or sort of have – or want to have…..
Making up color cards is one of the many ways I'm working towards Complete Organization! But it takes time.
Now, there are different ways to "see" the colors of different lines of needlework threads, but in fact, without actually seeing the threads in person, it's hard to determine exact colors.
Still, I like to visit (and shop at) online stores that show the threads they carry in their various color families. For example, at Tristan Brooks Designs, you'll find that all their Heathway wool is photographed so that you can see the varying shades of the different color families of that line of thread. The photos are of full skeins – and you know it had to take a lot of work for them to photograph all these threads and get them on their website for display! As a consumer, I appreciate that work. I like to see the threads, even if only virtually.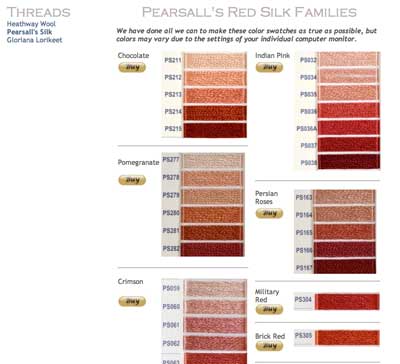 Tristan Brooks Designs also does the same thing with their Pearsall's silk. The pictures here are of real thread color cards – that is, cards wound with actual thread, and lined up according to shade and color family.
Needle in a Haystack also does this, with practically their whole range of threads. They've got, for example, all the Soie d'Alger by Au Ver a Soie on there, with individual photos of each color, arranged in numerical order, which makes it very easy to order thread from them, if you happen to know the color number you want.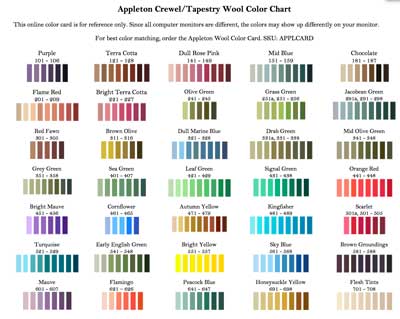 You can also find, online, charts of the shades of threads, that aren't actually photos of threads. For example, Discount Needlework offers a PDF of Appleton Colors like the one above.
Of all the methods of displaying thread colors online, I prefer photographs of the actual thread. Images of printed documents with color blocks that represent shades of thread are not as accurate – and in fact, they are twice-removed from accurate. First, a printed color card itself isn't very accurate, and second, an image of a printed color chart seen on a computer monitor is even less accurate. But what it boils down to, really, is the fact that photos of threads aren't super-accurate either (they're better than nothing, though, and much better than images of documents with color blocks on them). The inaccuracies of thread colors seen online stem from two points: 1. All computer screens display color differently, depending on the settings of the computer screen. There's some fancy equipment out there that can help avoid inaccurate color (especially for people who do a lot of print design), but for the average computer user, when we see color on our screens, what we see isn't normally what we get. 2. Even in photographing actual skeins of threads, when the image is captured, there's no guarantee that the thread color was captured accurately – lighting situations and camera settings (or scanner settings) influence the color in the captured image.
When it comes to actual color cards, then, that you can have on hand for reference, they are of two kinds: the printed color card (with blocks of color representing the color of thread printed on sheets of paper or cardstock) or real thread color cards, with actual samples of the real thread assembled on cards so that you can see the actual thread color.
I have two real-thread color cards – the one above, of the range of Japanese flat silk from the Japanese Embroidery Center, and a book of real thread color cards of the line of Au Ver a Soie threads, put out by Access Commodities years ago (and no longer produced).
Other lines of thread do have their own real-thread color cards. Appleton, for example, has a nice fluffy one full of all the crewel embroidery threads offered by Appleton. Here in the States, you can purchase the Appleton real-thread color card through Wooly Thread.
Being able to walk into a local needlework shop (located preferably right next door to your house!) that carries every kind of thread you could ever want, and displays them in such a way that it's easy to see the colors and feel the threads, would be the Uber Ideal Situation, wouldn't it? But since most of us don't have that option, we order threads online. And since we can't see the actual threads and their colors, wouldn't it be nice to have real-thread color cards for the lines of threads we want to use? But all manufacturers don't offer these thread cards. The solution? We have to make our own!
One of my plans this summer, then, is to make real-thread color cards for two full lines of thread, of which I have every currently available color: Fine D'Aubusson wool and cotton floche. I'm pretty sure this will be a time-consuming task, and I haven't decided yet how I'll go about organizing and arranging the colors on thread cards, or how I will present the individual samples of color. Will I wrap cards with thread, as they did with the Pearsall's thread above? Or will I use little cut samples, as they do with the Appleton wool? Will I arrange the thread samples by color families and then by shade? Or will I arrange them by color number? These are things I haven't decided yet.
Though time-consuming, in the long run, I think the project will pay off. I'll be able to quickly and clearly see what the actual real colors of the threads look like, reference the color numbers easily, and order colors with confidence, knowing that I'm not guessing at a color, as is often the case when references a printed color chart or looking at pictures online.
Have you ever made real-thread color cards for the threads in your stash? If so, how'd you go about doing it? If not, how do you order colors for projects, when you aren't sure exactly what color you want? Is it a hit-and-miss situation? Or are you usually accurate in your choice of colors? I'd love to hear your experiences with color samples, ordering threads, and how you determine the correct color to buy, if you can't actually see the real color in person! Feel free to leave comments, suggestions, ideas, advice, experiences, questions, and so forth below!