Today, I'm going to share with you some photos that were sent to me by Anna at Talliaferro, who just knew that I would love seeing these pieces.
Prepare to be inspired!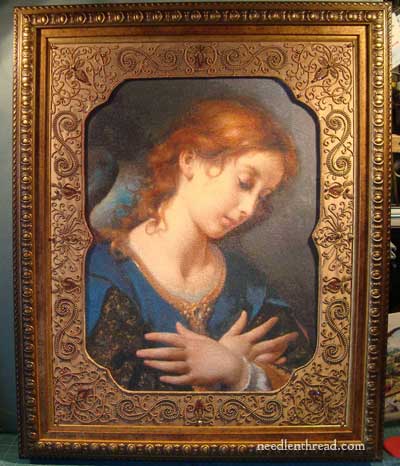 The mat around the angel image was embroidered by Larissa Borodich, from Moscow, and designed by Irina Rudneva. (Visit her website! Her beadwork is amazing!) While reminiscent of the pearl and jewel-encrusted icons that are characteristic of Russian art, the bead embroidery on the mat is a lighter and airier approach to this type of embellishment.
Here's a close up on the corner, while the piece was still attached to the embroidery frame.
With the piece still on the frame, you can get a better idea of the subtle variation of color tones. Absolutely beautiful, isn't it?
Another view of the corner here – it's amazing to think that each of those little "tendrils" is made of beads. Notice the larger beads used for the scroll motif.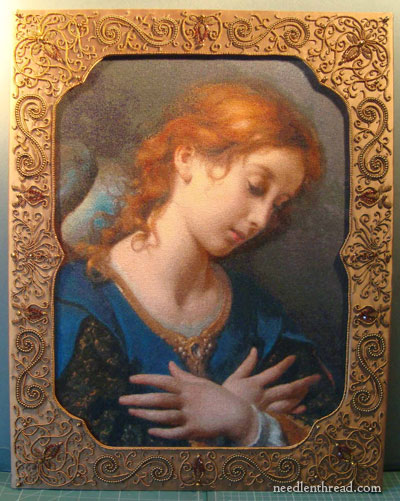 Here is the piece, without the frame at this point. Lovely, Lovely, Lovely!!
I've written to Anna for some more details on Larissa's work, and I have another piece to show you later on that will take your breath away. But there's one little detail I still need to ascertain before sharing that one with you!
In the meantime, though, I thought you'd enjoy this appetizer.
Now I have to resist the temptation to lay in a supply of beads!!
Beautiful work, Larissa, and a gorgeous design by Irina! Thanks for sending the photos!