I'm drudging up a ghost from the past here! I really do want to finish the Fan Flower Monogram Alphabet – it's been on my List of Things to Do for the past year or more!
As autumn rolls around and I start looking ahead at other embroidery projects that I'd like to accomplish in the next year, the Monogram keeps popping up in my head. I love the look of monograms, whether they are the single monogram, or the entwined double monogram (is that an oxymoron?) or triple monogram. I often wonder if other people like monograms – they seem to be popular for some things, but do you reckon they still have a popular spot in the embroiderer's repertoire? Is embroidering beautiful monograms something that entices you? What do people think of monograms these days? These are the questions I was pondering when I remembered this unfinished alphabet.
So, I'm tying up a loose end!
Here's the N in the Fan Flower Monogram alphabet:
I've included a small (3″) and a large (6″) monogram in the following PDF, which you may download:
Monogram for Hand Embroidery: Fan Flower N
Enjoy!
Favorite Monograms – PDF Collection
This entire alphabet – plus many more! – is available gathered in one easy-to-download PDF in Favorite Monograms, a collection of 16 monogram alphabets perfect for hand embroidery and other crafts.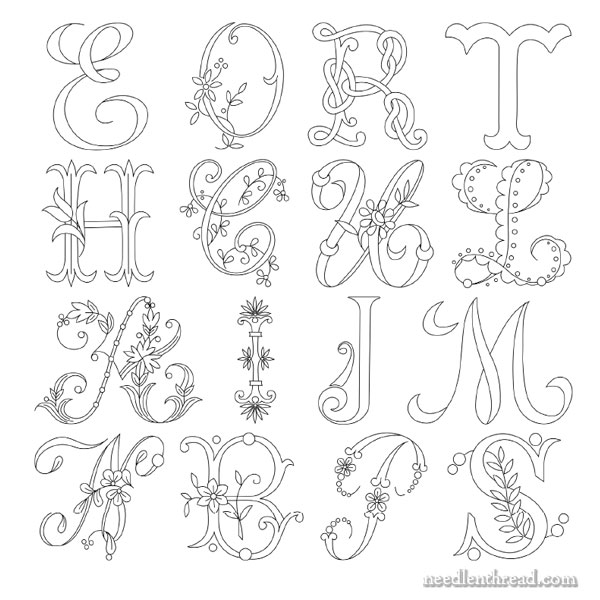 In the photo above, you can see samples of each alphabet available in Favorite Monograms.
Each letter in each alphabet in Favorite Monograms has been carefully traced into a clean line drawing that can be easily enlarged or reduced on a home printer or a photocopier. If printed straight from the PDF, the letters print at 2.5″ high, when choosing "no scaling" or "100%" in your printer settings.
The 16-alphabet collection is delivered as via a download link to your inbox shortly after purchase, so that you can begin creating right away! Priced at less than $1.00 per complete alphabet, monogram lovers can't go wrong with this collection!
Favorite Monograms is available in my shop, here.