How do you store your embroidery threads? This question has troubled me for a while.
Over time, I've been investing in complete ranges of threads that I know I will be using in my hand embroidery projects. There are obvious reasons to have the whole set of any given line of thread on hand, the primary one being that threads are to the embroiderer what paints, pencils, pens, or crayons are to the artist. If you don't have just the color you need or you don't know just what colors are available, then the designing stage becomes decidedly more difficult. Of course, the artist can mix paints, and to a degree, we can do that with threads, but not in quite the same way, right?
Real thread cards are a partial solution to this, but not an entire solution. On a real thread card, you can see a real piece of each color of thread in a range of embroidery thread. The drawbacks? One, you can't stitch with the thread sample. If you have the whole skein or spool, you can actually stitch with the thread and see how it looks in the overall design. Two, not every thread line has a real color card, so you have to make your own, which requires you to have the whole range of threads, anyway.
So, a long term storage solution for expensive whole sets of threads became a priority for me. I started hunting around for something that would not only work, but would work for the long haul. Plastic boxes, cardboard boxes, and the like were not on my "favorite" list, because over time, the chemicals in plastic and in cardboard that isn't archive-friendly could have an adverse effect on embroidery threads. The same applies to wood. While I was hunting, I developed the following criteria for a thread storage solution:
1. Safety – the threads should be free of possible damaged due to storage
2. Logic – the threads had to be easily viewed and easily arranged in a systematic way so that they could be easily found
3. Space-Consciousness – the arrangement had to fit within the spacial limitations of my workroom
3. Aesthetic Appeal – while the storage solution didn't have to be beautiful, I didn't want it to be ugly. It at least had to be neat and clean looking.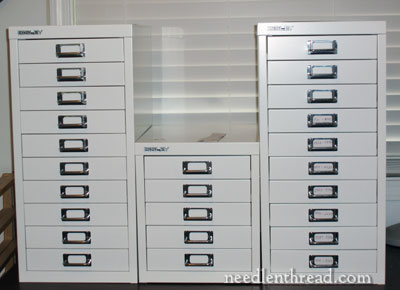 This is my embroidery thread storage solution. These cabinets are made by Bisley. They are made out of steel and are "collector's cabinets" – made to hold collections of things over time, in an environment that is not harmful for whatever is stored in them, be it paper, thread, or other precious collectibles.
I began my search considering archival paper storage, and the first thing that came to mind were flat files used for documents, blueprints and the like. Flat files seemed a great idea for thread, too, because you can easily see the thread laid out, not piled in heaps that needs must be dug through.
But your typical flat files for documents and blueprints are not only large, but even when bought second-hand, are also very expensive. The large size made them impossible for me, because I don't have space for large furniture. The expense – well, I knew I would have to spend money to achieve a workable storage solution, but I didn't want to spend that much money!
The Bisley cabinets are not inexpensive, it's true. But they fit in every respect what I was looking for, so I was willing to make the investment. I bought the cabinets through The Container Store, which, aside from going through the manufacturer, is the only way to get them in the US. I called the manufacturer to compare options: would it be cheaper to buy through Bisley directly, or through The Container Store? The upshot was that the the freight shipping used by the manufacturer would increase the cost of the cabinets, compared to buying them through The Container Store. So… off I went to The Container Store website.
Wouldn't it be nice if there were a Container Store within driving distance, so I could save on shipping? Not quite so lucky! But – low and behold – the cabinets were on sale, and they were on sale for about $70 less per 10-drawer cabinet, which was just sheer luck. The sale's over, but it's definitely worth keeping an eye out for future sales. You can also sign up for their e-mail newsletter and the next day, you'll receive a 10% off coupon in your inbox, which ended up covering shipping costs on these.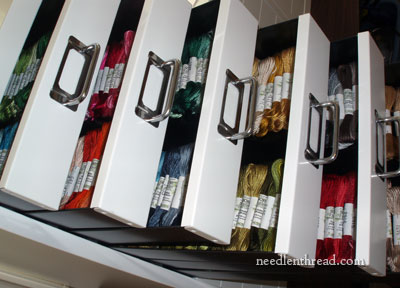 To organize each whole thread set, I've arranged them not by color and shade groups, but by number. Most thread manufacturers keep their shades of one color within a certain number range, anyway (at least to a degree), so instead of working out color families and shade groups, I laid out the threads in rows by number.
Au Ver a Soie's spooled threads fit almost perfectly four across in the drawers, and each drawer easily holds a whole set of Soie Ovale or Soie de Paris. To keep the spools in line, I'll insert thin barriers of card, cut to fit the length of the drawer. You can actually buy insert trays made for these drawers, but the insert trays take up precious space (and they cost way too much for what they are). Next time I'm at a framer's, I'll pick up a sheet of archival quality card or mat board, and I'll slice thin strips that will divide my rows of spools.
One 10-drawer cabinet is devoted, then, to three sets of Au Ver a Soie threads: Soie d'Alger, Soie Ovale, and Soie de Paris. I may condense those a little bit to free up at least a drawer or two for other threads.
In the small middle cabinet, the first drawer is dedicated to fabric swatches and thread inventory lists, and the other drawers will be devoted to more thread.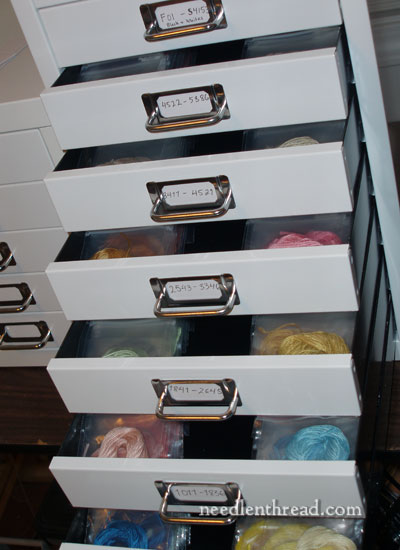 You can see that the cabinets have a place for labeling. The number range for the thread in each drawer is written on the label.
You might have noticed that the interior of the drawers is black. If you prefer to see your threads against white, you can always line the drawer with white acid-free tissue paper. The drawers, by the way, pull out so that you can take the drawers to your workstation and then put them back easily.
And so much for laying out the threads so I can see them clearly! I ran out of room, so my complete sets of floche and coton a broder are stored like this for now. Eventually I will invest in a few more cabinets.
The 10-drawer cabinets are small enough to sit on top of a table, if you can handle having something "towering" on the table. They are not tall enough to stretch a board over to make a desk, unless you invest in the super-high plinths, which must be purchased through the manufacturer (Bisley). My plan is eventually to do this with at least one set of cabinets, to create a permanent light table tracing station. The Container Store carries regular plinths, but these are four inches short of the normal height of a desk. Right now, the cabinets are sitting atop a table, but they are also short enough to sit under a table, which is where I'm going to put them for now. The five-drawer cabinet sits comfortably on top of a table.
So, my thread storage is developing a little bit at a time, as I can afford to invest in the cabinets. I'm also keeping an eagle eye on The Container Store website, to see if the cabinets surface in a sale again.
Pros of the Bisley Collectors Cabinets for thread storage:
1. They're safe, a perfect environment for storing thread long-term.
2. They offer flat drawers, so that skeins and spools can be easily seen.
3. They come in manageable components that can be purchased over time and arranged in a variety of ways, reducing the need for large pieces of furniture.
4. They are extremely well-made and will last.
5. They are attractive. This is not necessarily essential, but I do prefer it when visible storage solutions are neat and attractive.
Cons of the Bisley Collectors Cabinets:
1. They are expensive. Look for them on sale!
2. Their extra components (plinths, divider trays) are also expensive.
3. They don't come in a standard desk height. I would rather have a taller cabinet with more drawers than buy plinths to raise these up to desk height.
4. The insert trays made for the drawers take up way too much drawer space. They are not streamlined at all.
Overall, I'm pleased with the cabinets. I like their look, I like their functionality, and I like the fact that they will keep my little threads safe and happy for a long time.
Your turn: How do you store your threads? Have you found a manageable storage solution for large quantities of thread or whole thread sets? I'd love to hear your take on it! Feel free to leave a comment below!
There is no affiliation between Needle 'n Thread and The Container Store or Bisley.