Just a quick note to wish you all a very Happy Easter! Here's a little eye candy (to take the place of all that chocolate!) that combines a beautiful symbol of Easter with some lovely Ukrainian hand embroidery.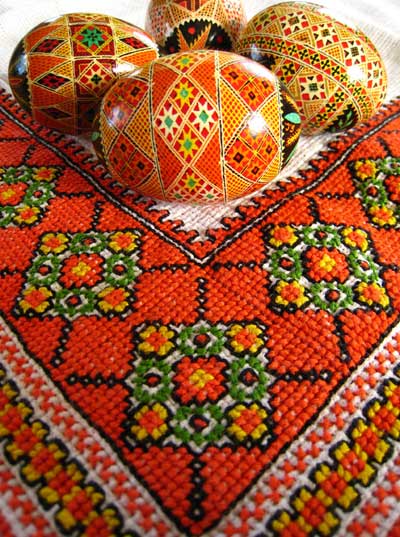 In the photo above, you can see two elements common in the Ukrainian Easter tradition: Pysanky (Ukrainian Easter eggs dyed in a series of steps, using beeswax as a resist to form the designs), and a hand embroidered cloth, which is common to see lining the Ukrainian Easter basket. This photo is from flickr, used with permission. You can find the original pysanky & embroidery photo here, with information on the pysanky and the cloth featured in the photo.
In the Ukrainian tradition, the Easter basket is lined and sometimes covered with hand embroidered cloths like the one you see above. I love this tradition! It sure beats bright green plastic grass, and on two accounts: 1. It's beautiful to see something hand made lining an Easter basket; and 2. no matter how often you sweep or how often you vacuum, you will never rid your house of every piece of green plastic grass. It never goes away.
Into the Ukrainian Easter basket goes a whole variety of things that we in America don't usually associate with Easter baskets. We generally think candy: an abundance of chocolate and jelly beans and amorphous marshmallow shapes covered in shocking colors of sugar. In the Ukrainian Easter basket, you see all the good things to eat on Easter, much of which was absent during Lent: Paska (Easter bread), babka (a sweet yeast cake), pysanky, krashanky (dyed hard boiled eggs), salt, pepper, butter, cheese, ham, sausage, horseradish, and seeds (sunflower and poppy seeds). Lined with their beautiful cloths, the Ukrainian baskets are further decorated with willow branches and fresh flowers and taken to church to be blessed.
As far as Ukrainian embroidery is concerned, there are different styles, depending on regional preferences and traditions. If you're interested in embroidering your own Ukrainian style Easter cloth, you can find several websites online with free Ukranian cross stitch patterns, which are often used on these types of cloths. Haftix seems to be a good source, for example. On the Ukrainian folk art website, you'll find some stitch tutorials and some designs for Ukrainian cross stitch and nabiruvannia embroidery (designs made from counted horizontal straight stitches).
There aren't too many current books out on Ukrainian embroidery, but if you peruse some used book sources using "Ukrainian Embroidery" in a keyword search, you can come up with a few older books still available. If you're interested in Ukrainian whitework & drawn thread embroidery, Yvette Stanton's book Ukrainian Drawn Thread Embroidery: Merezhka Poltavska is the definitive book on the subject.
Happy Easter to you and yours!
Tags