Monograms: The Art of Embroidered Letters by Susan O'Connor first came out in 2007, and I've had it on my shelf (and on my work table for reference, and in my grubby paws just for the pleasure of reading and browsing) since practically the day it hit the shelves.
It is The Book to have, if you love embroidered monograms and decorative initials worked in traditional embroidery methods.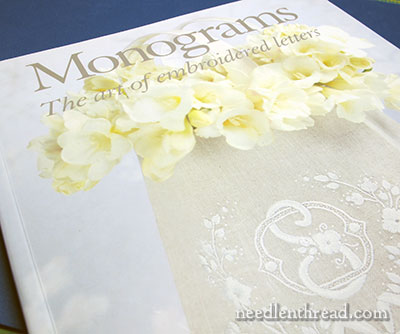 So, yes, it was published first in 2007. And I'd almost venture to say it was published just slightly before its time.
What do I mean? Well… it was published in 2007 and available for sale for a while. But about three-ish years ago (and ever since then), monograms have all of a sudden come into their own again. They burst once more onto the "in" scene – not just in embroidery, but in all kinds of decorating, crafts, and whatnot.
I know a trend doesn't just pop up overnight, so it would probably be better to say that Monograms was published right on time – at the leading edge of this new interest in the monogram.
I think the new found interest in monograms can be attributed to many factors, among them the increasing popularity in fancy paper crafts, wherein monograms and lettering have found a nice little niche (think quilling, embossing, and so forth); trendy approaches to monograms in decorating (think very large decorative initials on canvas on the wall); and… Pinterest. Look up "monogram" on Pinterest, and you can bet your favorite clock that you'll be whiling away hours, browsing.
So what happened with this particular book during this new boom in interest in monograms? Interest spiked, embroiderers began seeking sources to learn the art of monogramming with embroidery, and the remaining copies of the book sold up.
And then individual booksellers noticed it was sold out practically everywhere but still in high demand, and they starting selling the book through Amazon, ABE, Alibris and similar sites, at incredibly inflated prices. I've seen the book available for prices from $60 (which is a little more reasonable for an excellent but hard to acquire book) all the way up to $700 (which is more than slightly unreasonable!).
Well, the good news: It's been republished (updated 2015). The book cover has changed…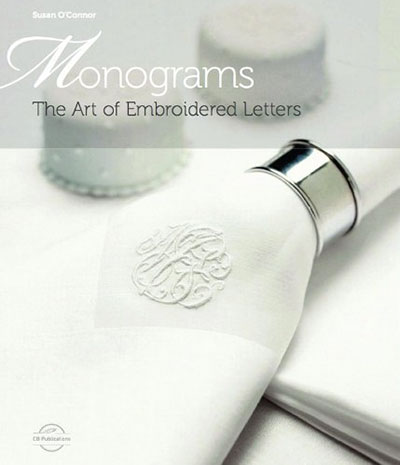 …so you'll know what to look for, if you're keen to get a copy!
Whether you like the new cover or not (I've heard from several readers lately who don't – and, admittedly, I find it a little cold and generic looking, myself), if the material is the same, which I believe it is, then I don't really give two hangs about the cover. It's the content that makes this book the gem that it is.
So, what's in it?
Three things: Background information on the art of embroidered lettering, thorough instructions on different methods of traditional monogramming, and some projects.
Don't overlook the first part of Monograms! This is where you discover why we monogram, how we monogram, who monogrammed, and what was monogrammed.
From the history of monogramming…
… to letter etiquette (the formation of monograms and ciphers, what they were put on, and how they were placed and arranged)…
…design sources for monograms…
…choosing and adapting letters for embroidery…
…and general information about embroidering monograms, including fabric choices and sources, stitches commonly used in traditional embroidered monogramming, and threads.
The first section of Monograms, then, is not to be missed! There's tons of good and interesting information here!
Then, we get into the whole instructional section.
Here, you'll find instruction on the important aspects of stitching traditional monograms, from the different types of stitches commonly used to the various methods of padding and raising stitches.
The instructional part of this book is super-duper thorough!
The instructions here are presented in two ways: step-by-step photos for the stitching methods, and clear drawn diagrams for pertinent tips that will help you manage some of the more challenging aspects of the embroidery.
There's an excellent section on trailing, which is a form of satin stitching over bundles of thread that are removed and replaced to increase or decrease the thickness of the embroidered line.
For finishing monogrammed pieces, you'll find instructions on several peripheral techniques, including hem stitching…
…and pin stitching.
You'll also find instruction on appliquéd monograms.
Finally, you'll learn how to care for your monogrammed pieces, from washing to ironing to storing safely.
The last section of the book is dedicated to a few projects you can create to show off your new monogramming skills. These projects include a pillow, a sheet, cushions, lavender sachets, a blanket, a handbag (the one displayed on the original cover), and a christening shawl.
Where to Find It
You can find the book available now through the following book affiliates:
In the US, it's available here through Amazon.
Worldwide, you can order Monograms: The Art of Embroidered Letters through Book Depository, with free shipping worldwide.
This article features affiliate links for both book sources, which means Needle 'n Thread receives a small commission for any purchase made through those links, with no added expense to you.