Simply Samplers by Cheryl Fall is a delightful instructional book for hand embroidery and cross stitch, great for beginners!
The book is suitable for adults who are getting into embroidery for the first time, and I also found it perfect for handing off to youngsters, to give them a good foundation for stitchery with plenty of starter projects to embroider. I handed it off to my 11 year old niece for her to read, explore, and experiment, and she found it easily accessible and understandable.
So here's my review of Simply Samplers so you can see what it's all about, in case you are a beginner looking for somewhere to start, or in case you have a beginner in mind that you'd like to help out!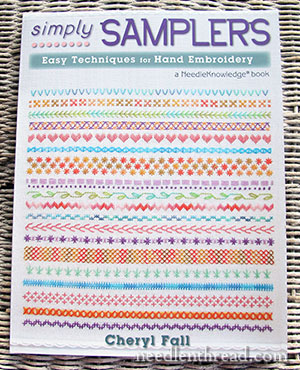 Simply Samplers rests primarily on a counted work foundation. You can kind of see this from the cover of the book – the sampler on the front, while it features some surface embroidery stitches, is gridded like a counted sampler.
For young beginners especially, this can be a good thing. Working surface stitches on even-weave fabric is a good way for beginners to get the hang of consistent and even stitch length, tension, and so forth.
I remember one summer when I was teaching embroidery to kids. I had a couple students who really obsessed over "perfect" stitch length, to the point that they would measure and mark out dots on their practice fabric for each and every stitch. I could not convince them to do otherwise, but it really it slowed them down.
I handed them some Aida cloth I had in my stash, and they were delighted! They didn't have to take the time to measure their stitches out on their practice fabric, and they were were able to learn the stitches more quickly. When they finally moved to their project fabric, graduating to plain weave, they embroidered nicely spaced stitches, without measuring. Hurray for even-weave fabric!
The book begins with the needful basic information on supplies and tools. Here, you'll find information on fabric, needles, hoops, threads, tools here.
The next section: basic techniques, to get the beginner off to the right start before launching into any of the projects.
Here, you'll find information on setting up your fabric, for both even-weave, counted projects and surface embroidery projects; tips on starting and ending threads; and pointers on transferring designs.
And then, the sampler projects. There are sixteen projects in the book. Eleven are counted cross stitch projects, from small and simple to a little more complex, and five are surface embroidery projects.
Along with several of the projects, there are other suggestions on finishing techniques, so that the stitched items can be used for something other than a framed piece.
For example, in the first project focuses on the little sampler and a scissor fob in the same style.
One of the most colorful samplers in the book is this counted thread band sampler. It includes stitches that can also be used in surface work. I think it looks like a lot of fun!
And the nice thing is, it's all laid out in a pattern, so there's no planning involved on the beginner's end. And once the stitcher gets going on the sampler, there's no reason why it can't be expanded upon – there's good potential for growth!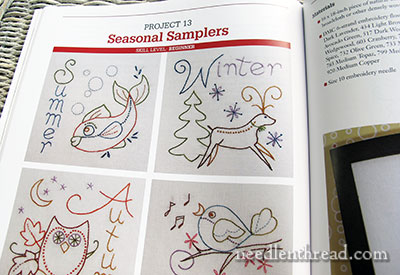 The surface embroidery designs are simple and fun, and they range from absolute beginner projects to projects suited for the beginner or beginner / intermediate stitcher.
There's a lovely shamrock sampler for surface work…
…and this cute pumpkin one, too!
Both of these could easily be broken down for decorating the corners of flour sack towels and the like.
Finally, at the back of the book, you'll discover a stitch dictionary featuring simple diagrams for the stitches used in the projects…
…followed by a section on finishing tips, including stretching, framing, and constructing into various items like ornaments, scissor fobs, and the like.
So, there it is! A nice little book for beginners that will familiarize them with counted work and surface embroidery, so that they can grow comfortable with the rudiments of basic stitchery.
Where to Find It
You can find Simply Samplers available through the following book affiliates:
In the US, you can find Simply Sampler through Amazon, available now.
And, worldwide, Simply Samplers is available through Book Depository with free shipping to most countries.