We're getting close to the end of this monogram alphabet!
Are you as glad about that as I am? I love finishing up a set of patterns. It makes me feel so… accomplished!
Now, if I could embroider all of them, that would really be an accomplishment. But to accomplish that, I'd have to grow about 12 more arms.
Pretty sure that's out of the question.
I hope that, if you like monograms, you've found some use for these. If you've used them in your embroidery (or any other arts and crafts), I'd love to see photos!
Here's the U and the V of the Daisy & Rings alphabet. At the end of the article, you'll find the handy PDF printables for both letters.
The U is pretty, I think. I like the style! I don't know anyone with a U for an initial, though, so I probably will never embroider this one.
And I think the V is nice, too. There are a couple V's in my family – a Victoria and a Violet – so I could see using this one.
Notice something different about the V? The V was the only letter in the original alphabet with the little twig on the flower pointing away from the letter.
Monogram Printables
If you'd like to print these letters out to add to your collection of hand embroidery patterns, you'll find the PDFs below. The letters will print at 2, 3, and 4 inches high, if you choose "no scaling" or a similar option in your print settings. But you can always enlarge or reduce them on a photocopier or your printer, if you want to change the size.
Monogram for Hand Embroidery – U (PDF)
Monogram for Hand Embroidery – V (PDF)
And if you're looking for the rest of this alphabet, you can find all the monograms for hand embroidery on Needle 'n Thread here.
Favorite Monograms – PDF Collection
You'll find this complete alphabet – along with 15 other decorative alphabets – all in one place in Favorite Monograms, a downloadable PDF collection of 16 monogram alphabets perfect for hand embroidery and other crafts.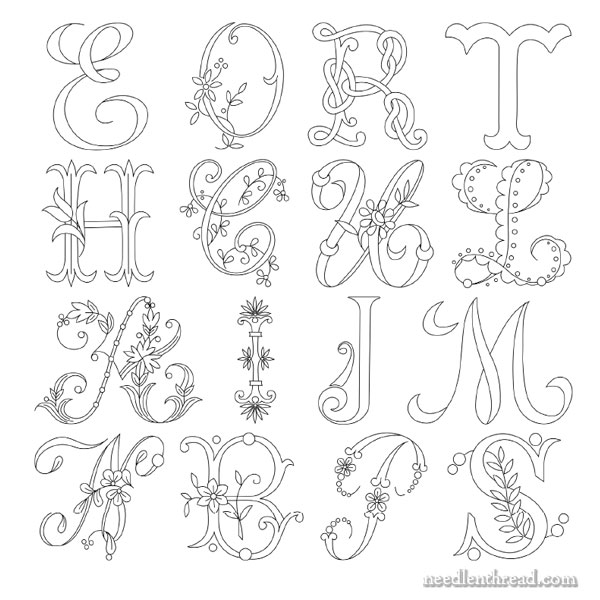 In the photo above, you can see samples of each alphabet available in Favorite Monograms.
Each letter in each alphabet in Favorite Monograms has been carefully traced into a clean line drawing that can be easily enlarged or reduced on a home printer or a photocopier.
The 16-alphabet collection is delivered as via a download link to your inbox shortly after purchase, so that you can begin creating right away! Priced at less than $1.00 per complete alphabet, monogram lovers can't go wrong with this collection!
Favorite Monograms is available in my shop, here.