I am, I think, addicted to embroidery threads.
There. I said it. The first step on the road to recovery is admitting there's a problem. So I've admitted it.
But this raises a question: is this an addiction I really want to recover from? Not really. It's not as if it's harmful, after all.
But the truth is, I sometimes do the Silas Marner thing. You know him, don't you? He was a miser. And he liked to count his gold.
And sometimes, I like to count my threads. I like to take stock of the threads I have, especially if I'm starting another project, and especially if the threads I plan to use are metal threads.
And when I take stock of my embroidery threads, sometimes, the most delightful thing happens!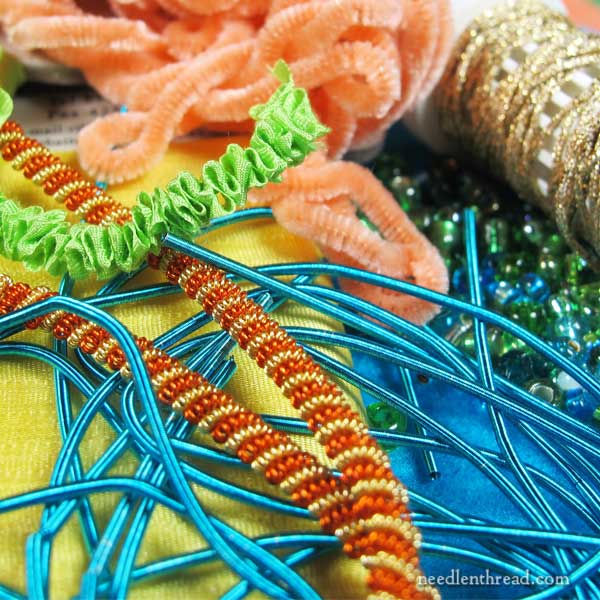 And it happened just the other day!
I was poring over a collection of embroidery threads, including some real metal threads, when I re-discovered a thread that I forgot I had.
And in the discovery of that thread, I lost a good 30 minutes of my day, mesmerized by it.
Here it is, up close.
It's a thick metal thread, made of two coiled wire threads twisted together.
The coils on the wire threads are open coils, unlike the coils on metal purls or bullions, the coils of which are close together.
The open coils give the thread a definite sparkle.
It's quite a festive-looking thread, isn't it?
Here's the end of the thread – the gold and reddish-copper alternate up the twist, creating a tube. So the individual wires that make the smaller threads are twisted into coils, and then the two smaller coiled threads are twisted together into yet a bigger coil.
The whole thread (and the two coiled wires that make up the whole thread) can be stretched like a spring, but once stretched, it won't return to its original shape.
The reason I was digging through my threads was specifically to find some more interesting threads that I can incorporate into a made-from-stash Christmas ornament. And this thread definitely caught my eye – and held it! So many possibilities with it! For example, I can see substituting this metal cording for regular soft twisted cording, to trim out an ornament, can't you?
The thread is a colored spiral from Golden Hinde in the UK, if you want to try it. They're reasonably priced for the length you get!
So, 'fess up! Do you ever find yourself completely mesmerized by embroidery threads? Do you think is something we should fight against, or should we just embrace it, as part of the fiber of our whole being? Feel free to chat about your infatuation with embroidery threads below!