I'm so glad so many of you enjoyed the resources from Antique Pattern Library that I posted last Friday!
Antique Pattern Library is really a gem of a resource, worth bookmarking and checking often for updates. Because they're entirely a non-profit work, it's also worth supporting them if you're able. And they make it very easy to donate through Paypal – it takes about a whole two seconds. If you make use of APL, do consider a donation. No matter the amount, anything helps to keep the endeavor afloat.
Here's a question that came into my inbox over the weekend:
Mary, you mention using these old embroidery books for inspiration. There are some embroideries in them that I think would make good patterns that I'd like to use, but how do you make them into a design if they don't have a design in the book? How do you make the designs that you have on your website?
I thought I'd address these two different questions here, in case others are wondering the same thing!
This pattern – with a few minor tweaks and alterations – comes from the goldwork book that I linked to in last Friday's article.
The original image in the book looks like this: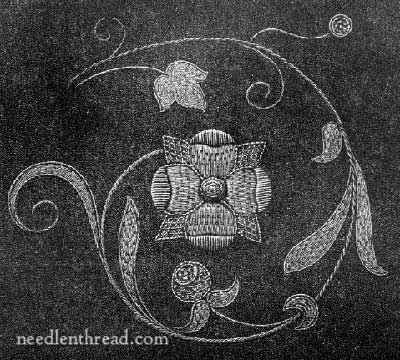 changing an image like the one above into a workable pattern can be accomplished by hand or on the computer.
There are different ways to do it by hand, and different ways to do it by computer. These are the ways I would go about it in both cases.
Tracing or Drawing by Hand
To trace an image like this by hand, print the page of the PDF that has the design on it that you like. Trace over the main lines of the design with a darker pen so that you can see them clearly, then trace those lines onto a piece of tracing paper. That will give you a decent pattern to start with. You might touch your tracing up a bit, making sure the elements are balanced and your lines are smooth, or even changing some of the elements altogether.
Once your design is satisfactory, trace over it with a fine tipped marker. Normally, at this point, I'd make a final, clean tracing on a new sheet of paper, and that will suffice for the final design, if it's just something I'm using for a one-off project for myself.
If you need to enlarge it (chances are, you would enlarge a little bit – the images are fairly small, especially in electronic versions of old books), then you can enlarge your tracing on a photocopy machine or a home printer.
Or you could draw the design free hand, if you like to draw. Sometimes, it's worth re-drawing an image like this completely by hand, using the image as your starting point. You'll discover changes you want to make as you sketch, and you can end up with a completely different design that you like better.
Vector Drawings
When it comes to the vector drawings made from public domain images (for example, the old embroidery designs that I clean up and offer here on Needle 'n Thread), the process is a bit different. I scan the image, crop it, import it as a gif into Illustrator (or Inkscape), add a layer to the image, and begin tracing the design bit by bit, making minuscule adjustments the whole time, to get a smooth, accurate rendition of the design.
With vector drawings, the process is not accomplished by a simple click of the button. You can't tell a program "trace this for me" and end up with a perfect vector drawing, even though some programs have a kind of auto-trace feature. Auto-trace rarely comes out accurate (on a complicated image) and auto-traced designs are usually messy and difficult to clean up. It's easier and less complicated to trace the image from scratch.
Creating vector drawing takes a good bit of time and involves a lot of precise, detailed work in front of the computer to get a satisfactory result.
If you're not familiar with using graphic software and have no interest in learning how to use it, then tracing an image by hand is the way to go.
But if you're fairly computer savvy and you like fiddling about on the computer and learning new things, you can download Inkscape for free and view the many online tutorials to learn how to use it. Illustrator is also an option, but it's quite expensive, and if you're just starting into this type of thing, it makes more sense to start with Inkscape, which does a good job and is quite user friendly.
I hope this is helpful for those of you wondering how to go about translating a design from an old publication into a new pattern for embroidery!
If you have any questions, feel free to chime in below!