Today, I want to share with you an exquisite piece of whitework embroidery which, at first glance, could be mistaken for a pristinely preserved antique.
But it's not! No, indeed, this is a brand new piece of embroidery, worked by Jacqueline Barcelo, a Needle 'n Thread reader, as a gift for her daughter.
Remember: you can click on the photo for a larger version! And this piece is definitely worth the extra click!
Jacqueline designed this piece herself. It's a pouch (or case) for a nightdress, worked on very fine muslin.
In the US, we think of muslin as a quilter's cotton, opaque and sturdy (elsewhere, referred to as "calico"), but muslin can also be a very fine, sheer cloth.
Fine muslin was first imported into Europe from India as early as the 17th century. By the late 1700's, weavers in Glasgow were attempting to reproduce the fine cotton cloth closer to home. During the Regency period of the early 1800's, muslin was favored for its light, gauzy, airy elegance, and often embellished with embroidery. Muslin, with its soft drape, suited the revival of classical styles in clothing. Think: Jane Austen styles.
So this particular piece, embroidered on muslin, is not embroidered on quilter's cotton, but rather a fine, sheer cotton, similar to a batiste or cambric.
The embroidered case, which is shaped similar to an envelope, with the embroidery being on the flap, features a delicate monogram worked in trailing (satin stitch over string padding), with seed stitch in the dense parts of the letters and light, fine needle lace in the center of the letters.
Little motifs in whitework and needlelace further embellish the piece. The mountains in the background are worked with various needlelace fillings, and a small boat floats neatly above the center monogram.
Butterflies and flowers abound, too, also worked in satin stitch, seed stitch, and various needlelace fillings.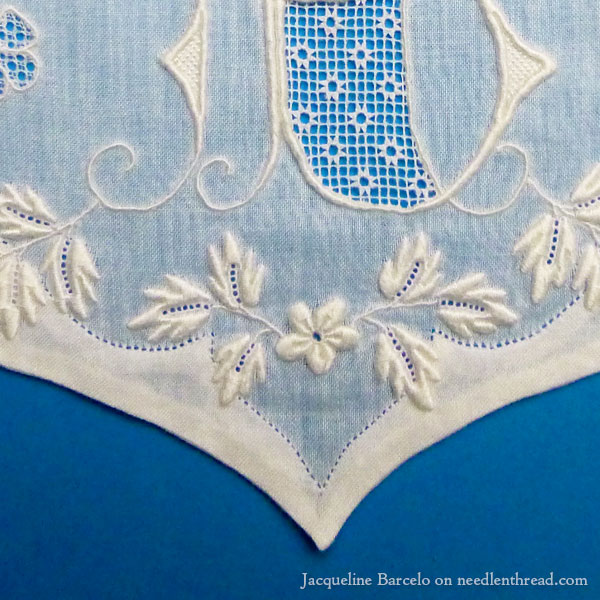 The edge is worked in a lovely Madeira appliqué style, with pin stitching.
And it's All Done By Hand!
One of the reasons we don't see this type of whitework done today – besides the incredible amount of time and skill involved – is the fact that the supplies used for this type of embroidery are fairly rare. In fact, the threads used for the embroidered parts (the satin stitching and seed stitching) are no longer manufactured.
Jacqueline used old DMC coton a broder in sizes 40 and 60 for the satin stitching. Even as recently as 7 years ago, coton a broder #40 was still available, but it's no longer being made now. Coton a broder #60 disappeared long before that.
For the needlelace, Jacqueline used very fine threads used for bobbin lace: 100/2 and 185/2. Here in the States, cotton lace making threads up to 170/2 are pretty easy to find (search for lace-making suppliers), but the finer 185/2 is harder to come by (Lacis.com carries it).
I hope this piece inspires you as much as it does me! It's always heartening to know that this type of exquisite whitework is still being accomplished.
Well done, Jacqueline!
Like what you see?
If you enjoyed this article and you're looking for more inspiration, information, and instruction on hand embroidery, why not sign up for my daily newsletter?
There are all kinds of reasons to have Needle 'n Thread delivered to your inbox – check them out and sign up today!