Remember the little stitching projects I was setting up several weeks ago, in order to have some relaxing, mindless handwork to do?
First, I shared this snowflake corner pattern with you, and chatted about doing cross stitch on plain weave fabric. And then we talked more in-depth about cross stitching on plain weave fabric, and I suggested this option for working a gridded pattern. And then, for the fun of it, I posted this second snowflake pattern for you to stitch, too.
Today, I want to add to your collection a little bit, with a folky combination of leaping deer and a tree, replete with snowflakes and a lacy border.
This is the design, gridded: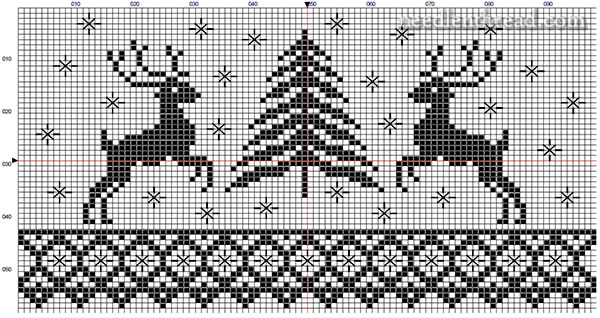 The design works great on the front edge of a cloth napkin or a foldable guest towel or kitchen towel, or – better yet – on the short end of a table runner for your holiday table!
If you want, you can even extend the border part of the design, or repeat the deer and tree motif along a longer edge of a table cloth or other household linen. There are lots of possibilities!
I wanted to show you a nice, crisply ironed, finished piece featuring this design, stitched. However…
…this pathetic photo is the last one I took of this particular piece. It was hanging on a skirt hanger from my mailbox, outside, soaking wet after rinsing the water-soluble grid away.
It's in the Ironing Stack as we speak.
You know the Ironing Stack? It's the stack I avoid, until avoidance is no longer an option. Strangely enough, I love ironing – or at least, I love the effect of ironing. I just don't love "getting around" to ironing.
In any case, it's a fun and easy pattern to stitch, and I hope you can find some use for it!
If you want to work it on regular plain-weave fabric (not even-weave), it fits on DMC water soluble canvas, or you can print a grid on Sticky Fabri-Sovly, and go that route. Either way works! When it comes down to it, I prefer the feel and ease of working on the DMC water soluble canvas, as opposed to the sticky Solvy, but both work.
Free Printable Deer & Tree Christmas Pattern
Here's the handy-dandy PDF printable. Important: Before you hit print, go to your printer settings and choose "shrink to fit" or "shrink oversized pages" or something along those lines. Otherwise, if you try to print at 100%, the chart won't fit on one page.
Deer and Tree – Folksy Christmas Stitching Pattern (PDF)
Even if counted work isn't your thing, maybe you have a friend who would enjoy doing it. Feel free to send them the link to today's article!
If you're looking for more hand embroidery patterns – especially patterns for surface embroidery – you'll find plenty of them here on Needle 'n Thread.
Enjoy your weekend!