It's Friday! It's Spring! It's my birthday! And it's a Perfect Day for a Give-Away!
And not just any give-away, but a thread give-away. Yes, that's right! I'm going to help you feed your embroidery thread addiction!
When it comes to Tangible Things, there's nothing better than embroidery thread, right? I have a serious infatuation with threads, and I don't think that's necessarily a bad thing.
The most appealing aspect of embroidery thread, to me, is the color, and no one does unique, hand-dyed color quite like Colour Compliments, a small embroidery thread business in Canada.
Lorraine at Colour Complements has announced a clearance sale at Colour Complements starting today, and, to kick it off, she thought it would be fun to give Needle 'n Thread readers a chance to win some of her threads. I wholeheartedly agreed. Any time I have a chance to get thread into an enthusiastic stitcher's hands, I'm all over it!
Lorraine's been producing some new color lines for this year and she's discontinuing a few types of threads, so it's time to make some space for the new additions. Hence, the sale. It's a great way to pick up some fun hand-dyed threads for your embroidery, needlepoint, crazy quilting projects…
My favorite threads from Colour Complements? I love the cotton embroidery floss. It's hard to narrow down favorite colors, but if I had to, I'd say all the greens and "Colour #1," which reminds me of summer, lemonade, flowers and sunshine.
The perle cottons are wonderful additions to any thread stash and can be used in all kinds of embroidery pursuits. I especially like sizes 8 and 12 for surface embroidery. And size 5 works great for canvas work, bold crazy quilt seams, and for what I call "chunky stitching" in surface embroidery.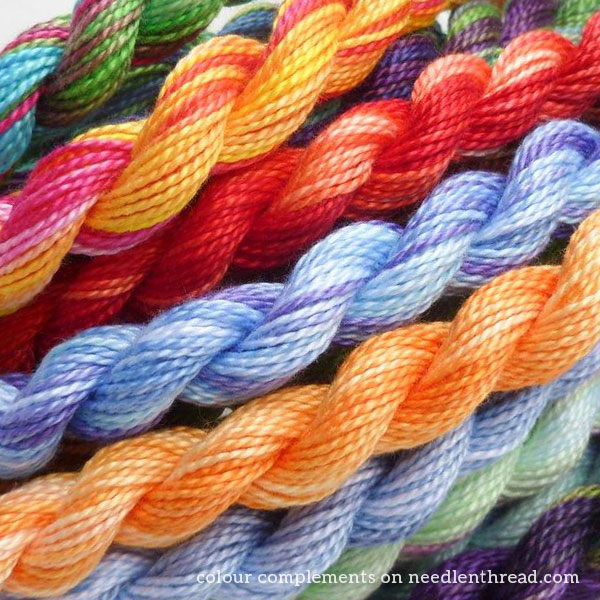 Give-Away Details & Guidelines
This give-away is now ended. Thanks for participating!
Today's give-away is for six threads of the winner's choice from the Colour Complements shop.
If you'd like to join in, here are the guidelines:
1. Please leave a comment below, on this article on Needle 'n Thread. You can get to the comment form directly by following this link, or, if you're already on the website, just scroll to the end of this page, to the comment section. Comments submitted on any other article or via email are not eligible.
2. In your comment, please answer the following question:
What's your favorite use for over-dyed threads? This can be a planned use – maybe you haven't worked with them yet, but you have ideas!
3. Leave your comment before 5:00 AM central daylight time (Kansas, USA), Friday, April 15. The winner will be announced that day. (It's tax day – might as well do something exciting!)
4. Please Note: Replies to other comments on the give-away are not considered entries, so please don't use the "reply" link below any comment to submit your own entry. Dual entries will be deleted. Please don't panic if your comment does not show up right away. Comments are moderated to keep the site free of spam.
And that's it! Easy!
I can't wait to read your answers to the question above! I love thread talk, and it'll be fun to hear how other stitchers use over-dyed threads.
Have a splendid weekend!