Howdy ho, and a happy Wednesday!
Let's talk antiques!
Way back in the Victorian era and through the early 20th century, embroidering initials on clothing (especially one's intimate wear) and on household linens was a common practice.
While the embroidered monograms could be elaborate and highly decorative – in which cases, they might be worked in prominent places on household linens where they could be seen – embroidered monograms served a much more mundane purpose. They were simply laundry markings.
A young lady would commonly mark her trousseau of under clothing, intimate apparel and the linens that she would bring to her new household with hand stitched initials. When laundered (as laundry was often "sent out"), her linens would make it back to her own closets.
Once betrothed, the initials could be more particular – the new household linens could include her spouse's initial as well.
To expedite the transfer of the design of the initials onto fabric, monogram stencils came about. These were made of very thin metal sheets – sometimes copper, sometimes tin – and the initials could range in design from very simple to fairly elaborate.
Those with particular tastes or particular styles of lettering in mind could, for the right price, have stencils custom made, or they could select from a less-expensive, ready-made variety of letters.
Sometimes, these sheet metal stencils can be found in full alphabets, but often they're found in old sewing boxes in a more limited range of letters, since the embroiderer was often only concerned with household initials.
The metal sheets the stencils are cut from are paper thin. They're downright flimsy (in a good way), they're so thin!
The initials are cut with perfect accuracy, and they offer a quick way of transferring a clear lettering design onto fabric.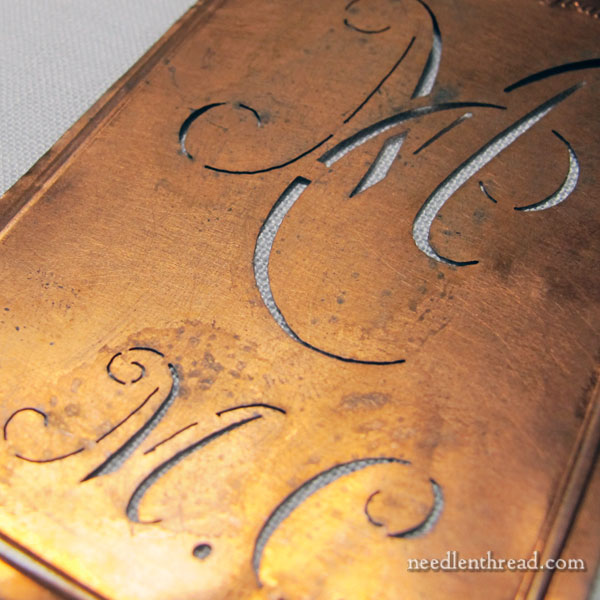 If you look at old copper stencils up close – if they were once used and they haven't been cleaned and polished – you can see wet marks on the copper from previous transfers.
The stencils would have been used either with an ink sold for the purpose or with a pounce powder that was dampened with spirits – today, we'd use rubbing alcohol, I think. The alcohol moistens the pounce powder into a liquid form, but then it evaporates, leaving the markings of the pounce adhering to the fabric.
I've not tried pounce and alcohol, but it's one of those experiments I'm going to make some day – and maybe some day soon! Now that I have a set of these copper stencils in hand, my curiosity is piqued!
I've seen old advertisements for copper stencils, and I've seen plenty of them available on eBay and Etsy. But I've never taken the plunge and invested in any. I think they're beautiful, once you see them in person! There's just something about their delicacy, the warm shine of the copper, the history behind them…
A Kind Gift
This particular set came way of Jessica Grimm, who became fascinated with sheet monogram stencils and started collecting them. She sent along the two MC sheets above to a very grateful recipient! Thank you, Jessica!
Jessica first wrote about the stencils on her blog, here, where she offers a free PDF download of an old Johann Merkenthaler catalog. This was a German company that produced very fine sheet copper monogram stencils. The catalog is packed full of examples of the Merkenthaler stencils – so, lots of lettering images available there!
Jessica also wrote about her method of transferring initials to fabric using the stencils and a modern transfer pen. So, yes, the stencils can easily be used today, if you happen to have a collection of them!
Coming Up – My Experiments & Some Tips
I've been playing with the stencils, too, and trying out different methods of using them.
So, next up, I'll show you my little experiments with different transfer mediums, tell you which ones seemed to work best for me, and take you step-by-step through a quick, simple method of embroidering the monograms while retaining the penmanship-like shape of the letters.
We'll also chat about the possibilities of using stencils today – not necessarily these antique ones, but stencils that you could make for yourself.
Interested in Exploring Further?
You might enjoy this video, wherein an antique dealer explores up close a collection of copper sheet monogram stencils. The collection is rather limited in letters. I was intrigued, too, by the sewing box and the tin holding the copper stencils:
(If you're reading this in your email, you can stop by Needle 'n Thread to view the video here.)
If you're interested in collecting these copper sheet monogram stencils, you'll find a slew of them on eBay and some on Etsy. They're very pretty, and I could see using them (not the embroidery, but the stencils themselves!) as focus points in mixed media projects, in collage pieces and the like.
So there's something else for you to explore, if you love monograms!
Enjoy your day!