I love old hand embroidery patterns! Love 'em, love 'em, love 'em!
Ever since I got ahold of my first old embroidery pattern portfolio some eons ago, I've collected them like a fiend.
And apparently Pat, one of our stitching cohorts who follows along here on Needle 'n Thread, knows this, because she recently sent me a surprise package.
And who doesn't like surprises?
And who doesn't like packages?
So, combine surprise, package, and old embroidery patterns, and hey! I'm in heaven!
So here's the pattern portfolio – it's quite a doozy and there are some really good ones in here that would be fun to interpret into all kinds of different embroidery techniques. At the end of the article, I'll share one of the patterns with you as a PDF, so that you can download it and play with it, too!
This portfolio of patterns – they are big, 24″ x 36″ folded pages of iron-on transfer patterns – is called The Wonder Package.
The name cracks me up!
As you can see, the portfolio contains over 475 decorative initials and over 350 patterns, no two alike!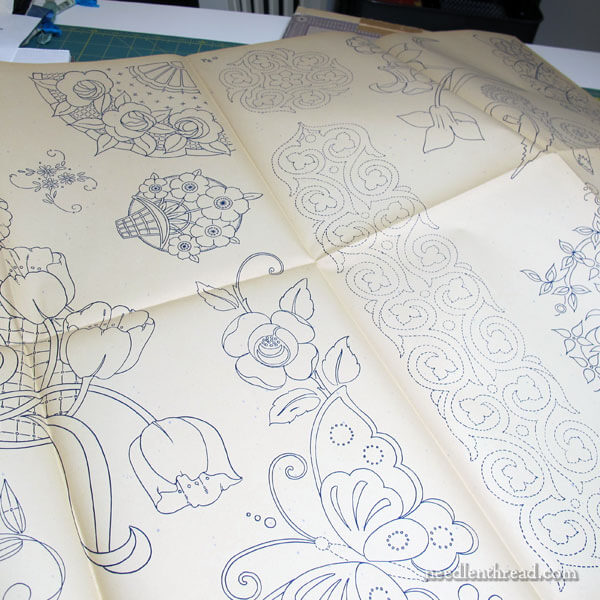 The Wonder Package was published by The Detroit News at some point since the advent of iron-on patterns. There's no date on the box or the individual pages.
The pages are in great shape for their age. While they've yellowed significantly and they do have some very subtle mildew spotting on them, they're completely intact with the exception of some edge wear and a few small edge tears, and it's obvious that they've never been used.
The designs in The Wonder Package range from delicate designs suitable for small projects (think: wedding hankies, baby clothes) to bold patterns suitable for big projects, like table cloths or quilts, curtains, or bed linens.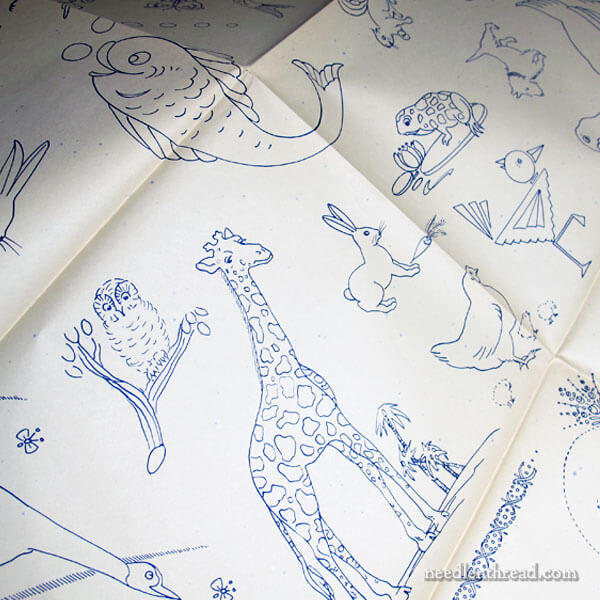 And the subject matter ranges from florals to geometrics to juvenile to animals to alphabets to… you name it!
Come on! Who wouldn't fall in love with a face like that?!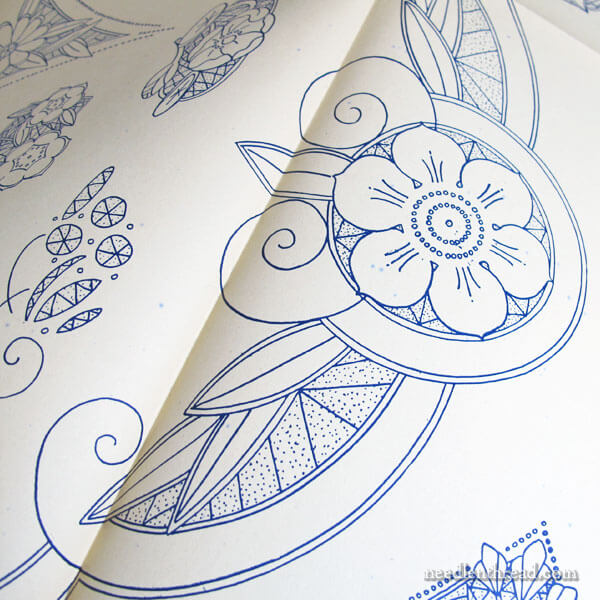 There are patterns that are obviously meant for cutwork, and there are several stamped cross stitch patterns as well.
Many of the larger, simpler patterns are ideal for appliqué or quilting patterns.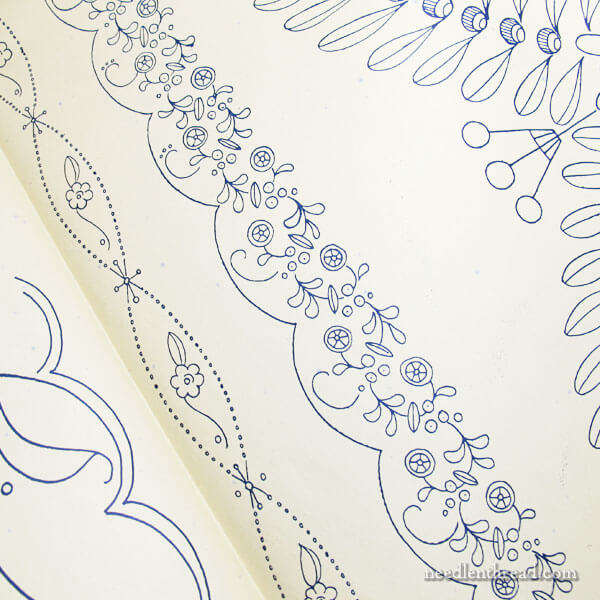 Some of the motifs are modern, some are folky…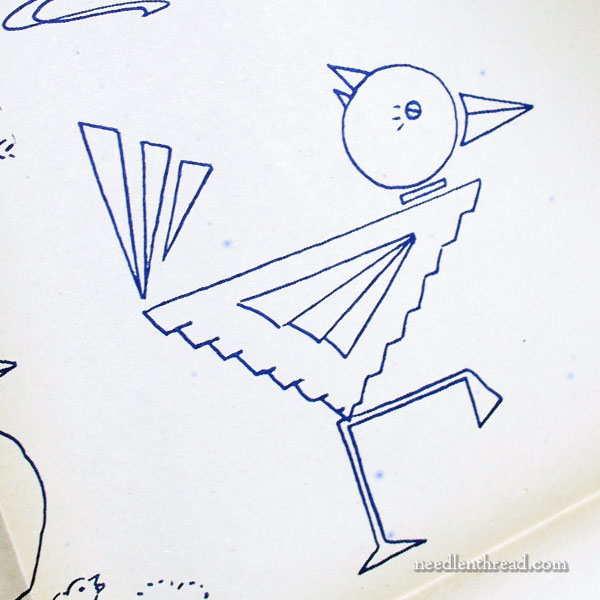 and some are even a bit on the quirky-funky side of things!
I thought this little knotted floral bunch was kind of neat, so I've re-drawn it, and it's available below in a handy-dandy PDF printable.
I could see this worked in practically any embroidery technique! From colorful and fun surface embroidery stitches, to stumpwork, goldwork or a combination, to whitework, even Brazilian dimensional embroidery – whatever you're game for!
Free Hand Embroidery Pattern
Here's the PDF pattern, if you'd like to print the design and use it on your own projects:
Floral Knot Hand Embroidery Pattern (PDF)
The design prints at 5″ wide and a little shorter than 5″ tall.
What To Do…
I'll be scanning most of this portfolio, so that I have an electronic copy of the designs. That way, if there's any further deterioration in the paper, I still have the designs. Plus, it's just easier to work with the patterns if I have them saved digitally.
Once the designs are in an electronic format, I can work with them to make them available for you, too. I probably won't reproduce every design (there aren't enough hours in the day!), but I'll filter some of them out to you now and then, so that you can have a bit of stitching fun with them, too.
On Collecting Old Embroidery Patterns
I began collecting old patterns when I was in college, usually finding similar portfolios or ladies' magazines at library sales, used book stores, and places like that. When I was dabbling with them then (just over 20 years ago), I picked up quite a few collections for a practical pittance.
For a while, I went through an eBay phase, where I bought pattern collections there as well. The resurgence of interest in vintage embroidery designs, though, has drastically increased the cost of them on eBay.
Now, I pretty much just leave the collecting to happenstance, rather than actively seeking old patterns, unless something comes up that I can't resist or that is of particular value or interest.
What do I do with the ones I have? When I can, I scan them. And when time allows and it's appropriate, I share them with you. That way, the patterns go on living, and they are used for what they were originally intended.
Was I thrilled to get this fun and diverse collection? Yessiree, Bob!
Thanks, Pat, for thinking of me! The patterns have a good home. They'll be taken care of and put to good use!
Over to You
Do you have any questions about old pattern collections? Do you like collecting patterns? Do you wonder what to do with patterns like these? Any questions at all – we're all ears! Feel free to start up a conversation in the comments below!