Happy Friday – and only 10 days until Christmas!
I hope you've been able to relax a little bit this season, that you haven't been running about frantic during the pre-Christmas rush, or stuck in among crowds of people – unless that's your Thing and that's the way you like it!
The whole noise of the secular Christmas season is not really my thing. I love this time of year, but within a very limited sphere of operation.
I have two antidotes to the frantic pace of the outlying commercial world that permeates the weeks between Thanksgiving and Christmas in the US: The first one, is, of course, my needle and thread. There's nothing quite as calming to me as escaping for an hour behind an embroidery hoop!
The second is closely associated: I stay close to home. I don't venture out to the wider world a whole lot this time of year, except for very special engagements. The height of social excitement for me around now is a cup of coffee with a friend or two, a visit to my sister's house, crochet night once a week…
But then, I do live in Kansas. So what else is there to do?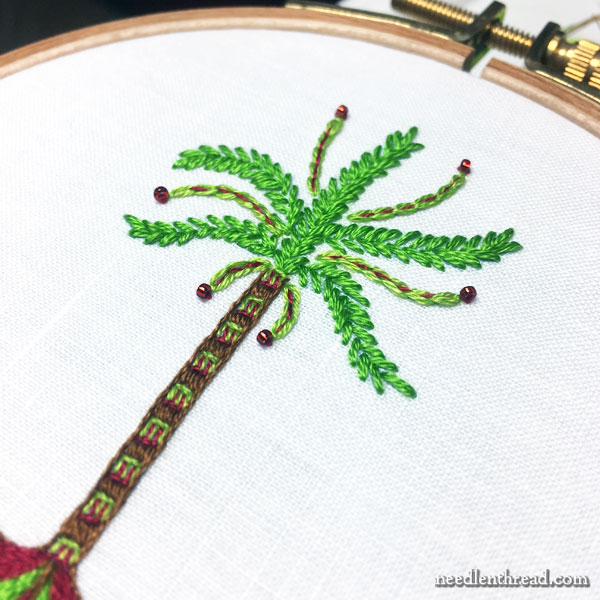 Tying up the whole Twelve Trees for Christmas thing after launching the e-book on December 1st, I wanted to share a free pattern with you today – to say a great big Thanks! to all who purchased Twelve Trees and to give you another to add to your collection!
The design is for a tree I played around with but never quite got right. It didn't quite make the final cut for Twelve Trees for Christmas.
It's a Christmas palm tree – a very stylized, somewhat whimsical (almost Dr. Seuss-ish?) Christmas palm tree!
Eventually, I'll play with this one again and get it right!
Since stitching this version, I've adjusted the design and added a couple bent palm trees into the mix. I just haven't had a chance to test stitch them again.
But since there are many, many, many stitchers in the world who live in areas where palm trees are a perfectly natural part of Christmas, and since I think palm trees are pretty cool in general, I thought this little collection of three palm tree patterns that you can stitch and decorate for Christmas would be fun!
How you interpret your Christmas palm tree is entirely up to you! I could see it in tropical colors for a bright splash in holiday decor!
Christmas Palm Trees – Free Embroidery Patterns
If you'd like to try your hand at some Christmas palm trees, here are the patterns! The large one prints at slightly over 3″ tall, while the two bent palm trees print just at 3″ tall.
If you trace the designs, remember that you don't have to trace every single line – you can trace just enough to give you a clear pattern to stitch by.
Christmas Palm Trees Embroidery Patterns (PDF)
I hope you enjoy them!
You can find more Trees for Christmas right here, if you're yearning to stitch some fun, relaxing little trees that work up quickly!
Coming Up!
I was supposed to post a give-away for you today, but something came up, so I had to juggle my publishing schedule this morning. But it'll be up tomorrow! And it's a doozy for five winners, and packed with Inspiration!
I'll be overlapping the last of the Christmas Give-Aways in A Stitcher's Christmas. There are four exciting give-aways remaining, and we'll be finished with them before Christmas Eve, so look out for them next week!
If you're looking for last minute Christmas gifts and you're shopping through Amazon, don't forget that you can visit Needle 'n Thread and click through any of the Amazon book links or banner links at the top of any article, to access Amazon. Any shopping you do through my links provides a tiny kickback to Needle 'n Thread, which is greatly appreciated!
I hope you have a wonderful Friday, and I will see you tomorrow with the next episode in A Stitcher's Christmas!