Earlier this month, we looked at these embroidered hollyhocks and this embroidered butterfly.
These little elements are part of a design I transferred to a flour sack towel a few months ago. I only started stitching on it because I needed something that was quick and easy to pick up, to work on now and then. It's a no-stress project.
I really didn't intend for it to be an all-consuming project, and it isn't.
But it really works out well for a Stitching & Thinking Project.
Do you have a Stitching & Thinking Project?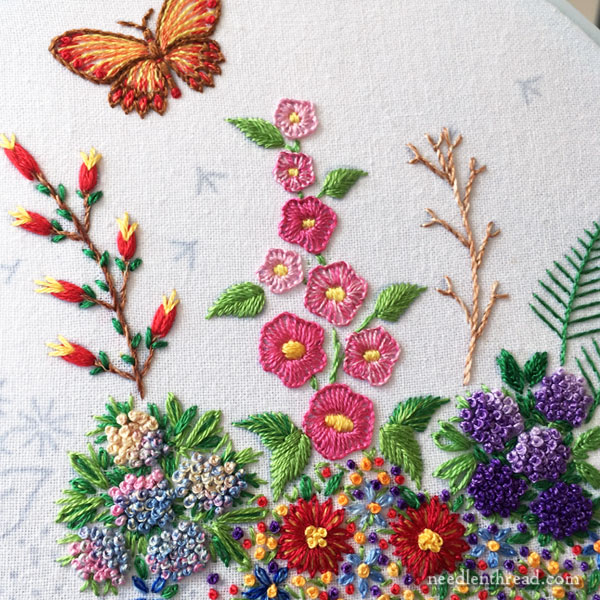 For me, a Stitching & Thinking Project is the type of embroidery project I pick up to stitch on when things have gotten a bit out of hand, when I need to step back and take a look at where I am and what I need to do next.
It's a project that allows me to gather my wits about me – a project I can turn to when I need to slow down in my head and re-orient myself.
Lately, I've been trying to balance a boatload of computer work with the designing stage and the stitching stage of a couple projects.
And at the same time, my mind is forever occupied with Needle 'n Thread – writing articles, developing ideas for tutorials and patterns and so forth, reading the next book to review, figuring out the latest technology for different applications on the website…
At some points, I feel like my brain is going to short circuit! So everything comes, briefly, to a grinding halt. I freeze in place, contemplating what to do next.
And that's where my Stitching & Thinking Project comes in handy!
When it's time to have a good think, to take stock, to slow down and consider the next move, I go to the sunny window, pull up a chair, and pick this project up.
You'd be surprised just how meditative and relaxing a bunch of French knots and randomly stitched greenery can be!
A "casual" project like this requires very little fussing. It's easy to leave out and accessible – everything fits in a gallon ziplock. I'm not worried about rumpling it. It's not a project I have to take much care of.
And when it comes to stitching on it, I just do anything that comes to mind as I'm stitching. There's no pre-planning. I reach for whatever color strikes me at the moment; and I stitch whatever stitch makes sense at the time.
And while I stitch, I think.
This type of stitching calms me down and helps me gather my thoughts. While my hands are busy stitching, my mind can contemplate whatever it needs to contemplate.
Sometimes, it might just shut down for a bit. Sometimes, it might work out a problem I was stuck on.
And I don't have to spend a lot of time at it. A half an hour or less usually suffices.
Generally what happens is this:
About twenty or so minutes into a Stitching & Thinking session, there's a Lightbulb Moment. Whatever was bothering me before – the writer's block, the design problem, the technical glitch – is suddenly solved. If not completely solved, at least a path towards solving the problem becomes clear. An idea presents itself, along with a quick burst of motivation to pursue and test the idea.
It's a lot like going to bed at night mulling over a problem and waking up the next morning with the answer, only it happens a lot faster!
And, because I'm stitching, the whole process calms me down. When I'm finished, there's a sense of accomplishment, too.
This is why I never consider embroidery a waste of time, even when I could be doing something more "productive." Not only is it a process for creating beautiful things, but it is also a kind of remedy.
For some, it is just the right therapy for managing difficult times. For others, it answers the need for a creative outlet. For many, it is all about bringing a sense of calm and contemplation to hectic lives. For me, it often ends up being my best – and most productive – time for thinking and planning.
So, what about you?
Do you have a particular project you like to use as a Stitching & Thinking Project? Does your embroidery invite that feeling of calm contemplation, that allows you to think and plan and sort things out while you stitch? Or do you prefer a different type of activity when you're in a thoughty mood?
If you have any insights, questions, suggestions, or you want to join in the conversation, feel free to leave a comment below!
Hope your week is going well so far – we're halfway through! Gotta love Wednesdays!