Last year, there was an exhibit at the Cluny Museum in Paris titled L'Art en Broderie au Moyen Âge – Embroidery Art in the Middle Ages.
Much as I would have loved to see it in person, it's a bit of haul from Kansas. So I did what I often do when there's a major museum exhibit that I can't get to: I looked for the exhibit catalog.
Most major museums that host an exhibition of some importance produce an exhibit catalog, which is a book that details at least the major pieces (and sometimes all the pieces) in an exhibit.
Exhibit catalogs also include a lot of research and information on the individual pieces, the places, the times, and so forth. They're worth having, if you have an interest in a certain area of art and there happens to be a good exhibition with a good catalog.
Sometimes, exhibition catalogs are a little harder to come by, especially if the museum is in a different country. And sometimes, they're even harder to track down if you don't speak or read the language of that country.
But most exhibition catalogs are available through museum shops online, during the time of the exhibition, and sometimes (if they've printed a lot of them), for a long while after. It's always worth looking for exhibition catalogs if you happen to be visiting major museums when on vacation and so forth!
Because exhibition catalogs are often full-fledged books, you can sometimes also find them through regular book seller sites, like Amazon and Book Depository. The publishers of the catalog, in order to make a larger print run worthwhile, will often distribute the catalog through major booksellers.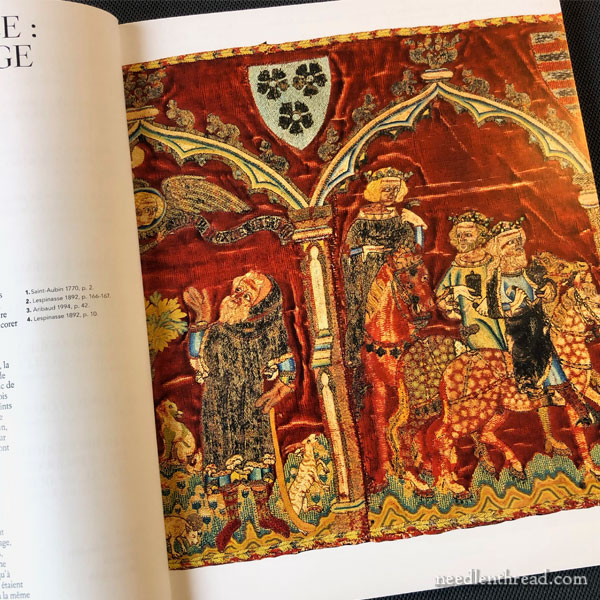 If you have a deep (and I'd say somewhat "academic") interest in historical embroidery, this particular catalog – which is titled after the exhibit, so L'Art en Broderie au Moyen Âge – is worth adding to your library.
There is a good chance, after all, that, unless you are well-traveled or have the ability to travel specifically to see embroidery exhibits like this, you will never see these pieces in person. Yet they are the authentic, original primary source for information about embroidery from this time period. They aren't someone else's recreated designs, they aren't surmise and guesswork – they are the primary source.
And while you can't "study" a piece of embroidery featured in a book the same way you can a piece of embroidery in person, exploration by book may be as good as it gets for most of us. And it's better than nothing! We live in a great era for photography and printing, so what we can get out of a book is actually a pretty good deal!
Of course, one of the difficulties about this particular catalog for those who don't speak or read French is the language barrier. It is written in French.
But again, we live in a great age for technical help with translating! There are plenty of online tools that can help you translate passages that you want to read if you don't speak the language the catalog is presented in.
This particular catalog features mostly images of medieval embroidery and the research that goes along with them.
There are, however, quite a few images of medieval art that reflect embroidery – and I'll talk a little more about that below. The photo above is of one of the first images in the book, which is a small painting or illumination of the Virgin Mary at an embroidery frame with the baby Jesus toddling about.
And that's another thing to keep in mind about medieval embroidery: the majority of extant examples feature religious subjects. Most of the embroidery in this exhibition catalog is ecclesiastical embroidery.
It's nice to know that some tools haven't changed much. Scissors and thimbles are still the same in concept.
But hey, even though I love to study embroidery from ages past, I'm perfectly content with doing embroidery in the 21st century, where we have modern needles and good lighting.
Here's another example of embroidery in art from that era, as opposed to embroidered art from the era.
The catalog has several excellent examples of illuminations and paintings that capture the embroidery of the era in some way or another.
This is another example of embroidery and embroidered fabric in a painting. It captures the structure of figure embroidery on ecclesiastical garb.
I've often though that a book on embroidery and embroidered fabrics featured in paintings and other art, with examples from museums world-wide, would be fantastic! There is one book that floats on the edge of this idea by focusing on fabric in painting (Fabric of Vision: Dress & Drapery in Painting), but I found it somewhat limited and disappointing.
But really, the meat of this exhibit catalog is the embroidered works from the era, and there are a good number of them detailed in the book.
Keep in mind, we're talking about embroidery from 600+ years ago, at a time when embroidery was expensive and reserved only for royalty and the Church, created in a medium that is prone to deterioration. So, as far as art goes, there aren't as many extant pieces of embroidered art as there are extant pieces of other types of art from the same period.
The exhibit is organized by region of Europe during this time period, so you'll find a section on embroidery from Germany, embroidery from France, embroidery from England – and Opus Anglicanum, and so forth.
It's really incredible to note the differences in the embroidery of the time, based on the region the embroidery comes from!
For those who are interested in recreating embroidered accessories from the era, you'll find a few featured here.
Filet embroidery! Fantastic piece!
There are some close-ups in the book, but not a lot. Still, you can get down the pictures with a magnifier and see some good detail. You can also snap a photo with your phone camera and zoom in on it, to get some of the stitching detail that you might otherwise miss, but that the original photo captured. It's hit and miss with that approach – depends on how grainy things are.
Still, I've zoomed on the above image, and it gives you a good idea of the structure and movement of the stitching.
These are exquisite examples of figure embroidery in typical stylistic settings. Absolutely gorgeous! What skill!
There's even a stitch dictionary in this catalog, that illustrates the typical stitches used in embroidery during the Middle Ages. It's not vast, of course. It covers split stitch, couching, undersided couching and the like.
I'm very happy I invested in the catalog. I have to pick over certain areas and drop things now and then into a translator, to get a clearer understanding of what I'm reading and seeing. This does take a little time, but it's worth it. It's the type of "study" that I love. If you also like this kind of thing, then I recommend this particular catalog. It's got some fabulous content!
Also, if you're looking for historical pieces for recreating embroidery pieces, there are a few sketchy items in here that would translate well into embroidery patterns.
Where to Find It
If this type of historical embroidery interests you and you want to study it further, you can find this exhibit catalog through the following sources. Keep in mind that, once exhibition catalogs are sold out, they usually do not come back into print.
There are just a few available on Amazon in the US. You'll find the listing on my Amazon Recommendations page here, under Browse My Amazon Recommendations. It's about $46 or so at the time of writing this.
You can also find it available through Amazon France, which is how I was able to get mine. It was less expensive ordering from France, even with shipping. Be sure you do the currency conversion to check the exchange rate.
This article contains an affiliate link to my Amazon recommendation page, which means Needle 'n Thread receives a small commission for purchases made through that link.