A few weeks ago, we chatted about sometimes having to quit on an embroidery project – not quit-quit, but just quit temporarily. It's the idea of stepping away, especially if you're getting frustrated with a piece of stitching or finishing.
In my case, I was trying to rush some finish work and the results were less than satisfactory.
One thing I've learned over the years is never to rush finish work. Perhaps you're damp stretching embroidery and preparing it for framing. Maybe you're turning a piece of embroidery into something particular like household furnishings (a footstool or a decorative pillow). Or you're taking on the challenge of turning some small embroidery into a needlework accessory, like a needlebook, scissor fob, or pin cushion. Perhaps it's even more complicated than that – or perhaps it's a very simple finish, like framing it in an embroidery hoop.
Whatever the case, don't rush it. Set aside a good chunk of time, prepare plenty of space to work, and lay out all your finishing supplies. Then sit down and go about the finish work in a steady, patient, methodical way. You'll get much more satisfactory results!
One of the first things I did upon returning home from my recent travels was revisit this voided monogram in whitework on natural linen.
With the project simmering in the back of my mind while I was away from it, a few ideas had dawned on me. One of them was the inclusion of color in the finishing process.
When visiting this linen shop in New York, I found myself drawn repeatedly to the natural-colored linens with blue and white stripes. In fact, most of the linen that I walked out of the store had blue in it.
I love blue! In a sense, blue dominates my world. I live in Kansas, after all. While we might not have the most striking physical features in our landscape, we do have incredibly immense views of glorious skies that dwarf the landscape. As we move through the seasons – and even as the single day slips by – blue in its every mood is the overwhelming color above our open plains on most days. And while some people can find the massive blue open vault of the heavens above somewhat disconcerting if they aren't used to it, I love it!
Anyway, combining blue with the natural linen and whitework struck me as a good idea.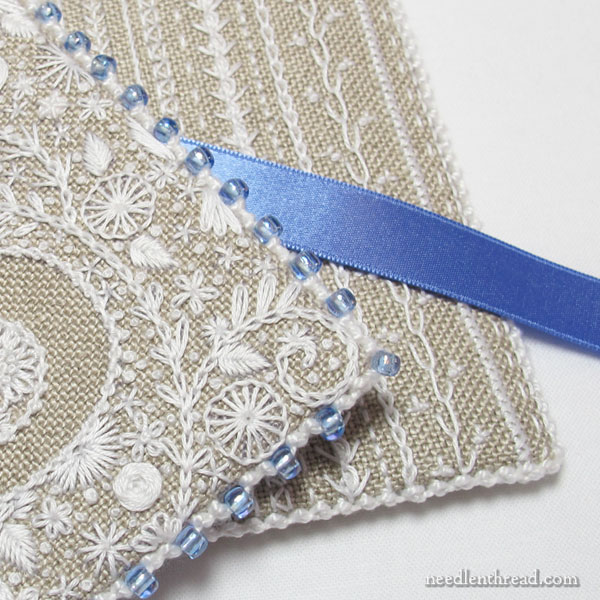 To pull off the combination, I decided to incorporate blue beads on the edge of the voided monogram and a blue ribbon as part of the finish work.
Will it surprise you to learn that this will be a needlebook? A needlebook makes a great platform for embellishment. There are few needlework accessories that are as useful as a needlebook – I figure you can never have too many of them.
I don't normally use enormous beads – and these beads are Huge! I like working with 15/0 (pretty small) seed beads and occasionally with 11/0. These are 6/0. Their size makes them quite visible and also provides a pretty and easy finish for the edge.
I'm not quite finished with the construction of the needlebook, but it's on my to-do list today, competing with taxes.
I wonder which one will win?
I'll be sharing more of this soon!
Hope your week is off to a grand start!