In Christian churches, the Cross is the dominant symbol. Throughout the ages, crosses have been used to adorn all kinds of ecclesiastical and church embroidery. While a cross can be simple enough to draw, the embroiderer often looks for ways to tastefully embellish the symbol. Here's a collection of cross patterns for the hand embroiderer. They can be used not only on church goods, but also on personal family items, from Bible covers to baptismal gowns.
Click on the individual cross to view a larger image. Right click on the larger image to save it to your computer. You can rescale the image to any size you want once you save it to your computer. If you don't know how to rescale in a graphics program, print the image and shrink or enlarge it on a photocopier.
Most of these crosses lend themselves easily to goldwork and all of them are suitable for filling or outlines using silk or any other embroidery thread.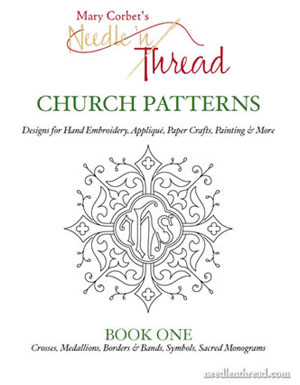 Interested in more church patterns? Check out Church Patterns: Book One – a collection of over 120 patterns in a 38-page PDF, suitable for church embroidery, and also for other arts & crafts endeavors (appliqué, paper crafts, painting – you name it!).
Tags