Here's another ecclesiastical embroidery pattern. The 8-pointed star with the thistles, surrounding the IHS, would be great for any place where a medallion would be required. It could make a good central focus on a vestment, as well as an ornamental covering for a chalice veil, pall, or burse.
This design would look exceptionally nice in goldwork, with couched gold passing covering the star image.
Click on the image for a larger version. Right-click on the larger version to save it to your computer.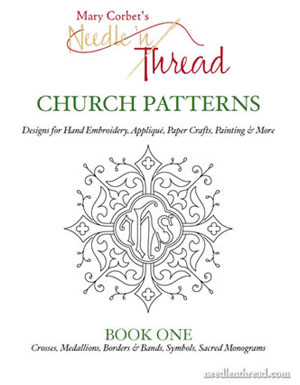 Interested in more church patterns? Check out Church Patterns: Book One – a collection of over 120 patterns in a 38-page PDF, suitable for church embroidery, and also for other arts & crafts endeavors (appliqué, paper crafts, painting – you name it!).