A good way to learn basic embroidery stitches is to work a sampler. When I think of samplers, I think of historical needlework usually done with cross stitches and such, with a "rustic" sort of look. I like that look. But with my beginners, I decided to "catch their interest" with color and a variety of stitches, so I drummed up a sampler for them. I thought I'd share a sample of one of their samplers.
You'll have to click on the image below for a full-sized view.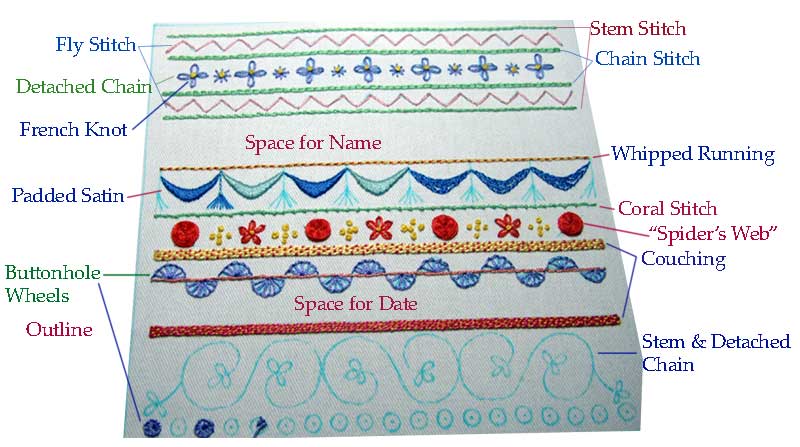 I wanted my students to be able to work a whole variety of basic stitches, with a few interesting ones thrown in, so that they could get the "feel" of combining stitches. At the same time, I left the color choices up to them. In our classroom, we have about five thread cabinets that they can take colors from. Most of the sampler is stitched in two strands of DMC, although the couching is #5 cotton perle as the laid thread, which is then couched with a contrasting color of DMC.
On the scallop-looking section, you can see that the padded satin stitches are not yet complete, with the padding visible in the last couple of scallops. I think this stitcher padded with two strands of DMC, but satin-stitched over it with one strand. Between the scallops are "tassles" – these aren't indicated in the names of the stitches. They are simply a whipped backstitch for the "rope" and straight stitches for the tassle.
In designing the sampler, I just drew it out on graph paper. I transferred the design to fabric using a light table and a transfer pen that will wash out later. The kids are stitching on 100% cotton, and I think this particular piece is a twill. The nice thing is, the ribs (more apparent in the larger image) provide the beginning stitcher with a way to gauge the length of the stitches.
Like traditional samplers, there's room for some text – in this case, a name and date. Some of my adult students are planning to put their daughter's name and birthdate in those spaces, and hang the completed sampler in the baby's room.
A sampler, then, is a great way to learn basic stitches. This particular sampler gives enough practice to get the stitch right, without becoming bored working a single stitch. The variety of color maintains interest and provides a pretty effect when finished.
You can design your own sampler easily – sit down with graph paper, draw some lines, shapes, and curves, leave some space for your name and date, trace your pattern onto your fabric, sit down with some instructions, and stitch away!

Tags