I just acquired another excellent embroidery book – and I know this one is going to be a favorite! The inspiration for purchasing it came from Elmsley Rose, whose enthusiasm for embroidery has "recharged" me – now I'm all fired up for some upcoming projects! (Oh, if she only knew what she has started!!) This book is perfect for anyone who loves embroidered flowers and who is interested in learning needlepainting techniques.
Redouté's Finest Flowers in Embroidery by Trish Burr is essentially a book on needlepainting flowers originally painted by Pierre-Joseph Redouté, a French painter of Flemish background famous for his botanical artwork.
Besides being an excellent resource for producing some gorgeous embroidered flowers, the book covers all the essentials of good needle painting techniques – those little nuances that make en embroidered work look positively realistic. The book begins like most other embroidery books that focus on projects: materials such as fabric, threads, hoops and frames, needles, and so forth are briefly discussed, as well as transferring techniques. "Briefly" is the operative word – Trish's book doesn't go into a lot of detail on the background information for getting started on a project, but the essentials are all there.
Then, you get a break down of the various stitches used in the projects in the book, with an extensive focus on long and short stitch as well as an adequate look at all the other stitches that help bring a needle painted project to life. The stitches are illustrated, some with drawings, some with photographs. The explanation of the stitches is good – not elaborate, but again adequate, especially for those already familiar with embroidery. She focuses as well on important aspects of stitching, such as direction and shading techniques.
To get you familiar with the stitches and how they work, Trish follows the stitch glassary with a starter sampler which covers all the basic stitches. It's an attractive piece in itself and would make a fun and varied embroidery project.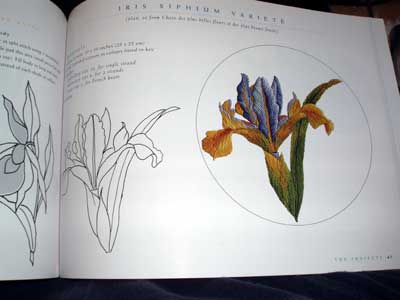 Then, Trish launches into "The Projects." This is surely the best part of the book! Seventeen of Redouté's flowers are drawn out and broken down into really "doable" projects. There are three good-sized, nicely laid-out pages devoted to each project. Each project includes a list of materials required, a line drawing, a photograph of the completed embroidered flower, a list of DMC thread suggestions, and – what I really like – a pencil-shaded drawing of the piece, so that you can see exactly where the shades change. In addition to this, on each project there is usually another line drawing of the flower, with certain areas shaded to show you what areas should be padded and how.
Stitch directions are not indicated on the flower patterns (this is where she falls short of Tanja Berlin's instructions), but the photographs of the embroidered piece are close-up and very clear, so that you can see the stitch directions on the finished piece. Very handy!
In addition to the material lists, the patterns, and the photo of the embroidered piece, you also get general instruction on how to work each section of the pattern.
The book is quite stunning, and for the intermediate embroiderer is a great way to launch into needle painting. The directions are clear, the pictures are fantastic, and Redouté's art looks fantastic in thread!
(It would make a Great Christmas Present, too!!!)