If you like elaborate hand embroidery in a "classic" sort of style, you may very well like the latest embroidery patterns I'm playing with. I like repeat designs for embroidery, but I've noticed that, in general, repeatable embroidery patterns usually only consist of one section of the repeat, so I've been duplicating the sections and flipping them on some of my favorite repeatable patterns.
This particular embroidery pattern is from Therese Dillmont's books from the DMC collection – it's in French, and the title is La Broderie au Passe. You can find the same book on the Antique Pattern Library, in four parts in PDF format. (Section 2 & 3 are the sections with patterns. Section 1 has black and white plates of finished embroidery from which the patterns were taken.)
The book focuses on regular surface embroidery in shaded techniques – so, lots of long and short stitch, stem stitch filling, and so forth. Even though it isn't packed with patterns, there are some very nice ones in there, some of which are elaborate, but small motifs could certainly be separated from the overall pattern. When there's a repeat, generally you only get one section – the duplication is up to you and your tracing paper (or, in this case, scanner, tablet, and Photoshop).
Here's the pattern. You can click on it for a slightly larger image. To resize, you can play with it in a photocopy machine, or in your favorite graphics program.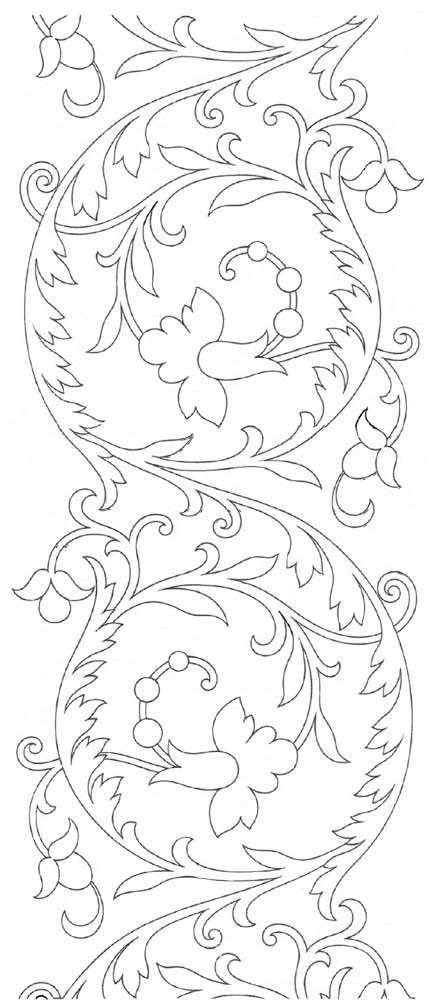 I'd love to work this pattern in silks on linen, but I'd have to find a use for it. I can't imagine using such a pattern on a tablecloth – not after all the work! Any ideas how it could be used?
For more hand embroidery patterns, you can visit my list of free hand embroidery patterns here on Needle'nThread, a short list of church embroidery patterns, or my list of free hand embroidery patterns around the web.
Looking for inspiration & information on hand embroidery?
There are all kinds of reasons to sign up for the Needle 'n Thread daily newsletter! Check them out and sign up today!