Continuing with the various ways you can start and end your threads in hand embroidery, this picture tutorial shows you how to use anchor stitches when embroidering a line. If you're not familiar with this method of starting threads, you might find it a bit strange, but bear with me! Read through the tutorial, and you'll see why it's useful to know how to do this.
Using this technique for starting your threads only requires you to work from the front of the fabric. You don't have to turn your fabric over to run your threads under anything, and you don't have to keep a finger on the back of your threads to make sure you're crossing over the thread on the back. This is straight-forward, front-of-the-work stuff. Knowing how to start a thread working solely from the front of your work – and still not using a knot – can be very handy…
This works best with a thicker line stitch. If you're working a very fine stem stitch line, or a back stitch line, you might prefer a regular waste knot. Still, you'd be surprised how invisible you can make these anchor stitches, even on relatively fine lines.
I'm going to be stitching this line with the heavy chain stitch.
Method of Work
Begin by placing a knot near the end of your thread. Here, I've left a tail that's unnecessarily long. You don't have to have a long tail – the closer your knot is to the end of your thread, the less thread you use. However, you do want enough of a tail after the knot to be able to pull up on your thread before you cut it.
Within an inch (or even half an inch) of your starting point, take your needle from the front to the back of your work so that the knot is on the top of your work.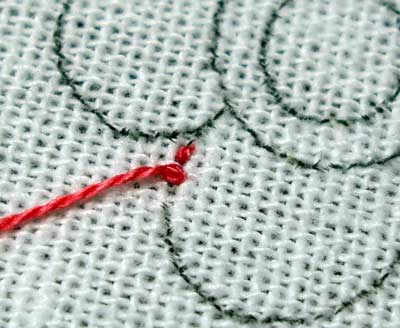 Between the knot and your starting point, take one tiny backstitch. Here, because this is a loosely woven fabric, I can easily take a stitch over one thread. In a fine, tightly woven fabric, you might pass over two threads. But you're aiming for a relatively tiny back stitch, in any case – over one or two threads of the fabric, depending on the weave of the fabric.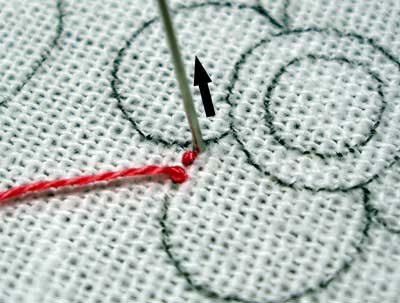 Working away from the knot and towards your starting point, bring your needle back up to the front of the work just on the other side of the tiny backstitch.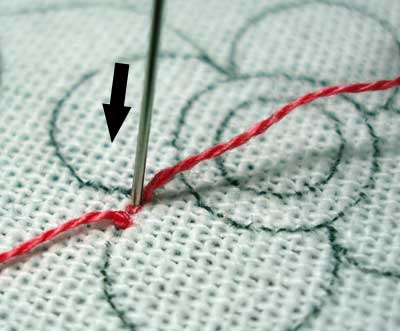 Now take your needle down into the middle of the backstitch, splitting it. As you pull this stitch, you want to apply enough tension to sink the stitch into the first backstitch. Don't pull so hard that you distort your fabric or stitches – just enough to pull the second stitch well into the first.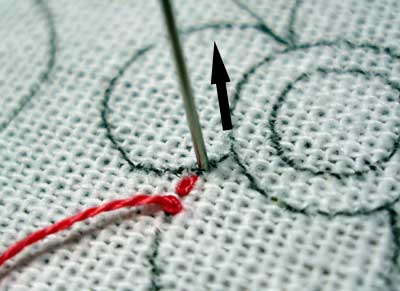 Still working away from the knot and towards your starting point, bring the needle back up to the front of your work, just on the other side of your second stitch…
…and take it back down into the stitch before. Essentially, you've just made three split stitches, only you're splitting your stitches from the top, rather than from underneath.
Pull that third stitch enough to bring it down into the second. Here, you can see it's sitting up a bit.
Pull up firmly on your thread tail, and snip off the knot, right above the fabric. The thread will boing down to the other side of your fabric.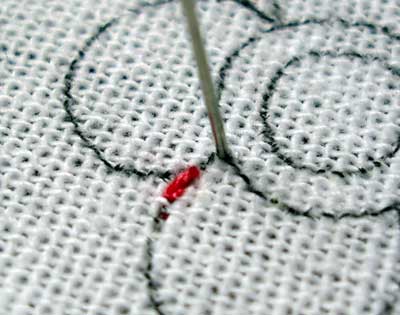 And now you're ready to stitch. Looks bulky, doesn't it? Hard to believe it can be covered and not noticeable…?
Here's the beginning of that petal, worked in heavy chain, covering up those stitches. You'd be surprised, actually, how well these anchor stitches can be covered up with a line stitch, even line stitches finer than the heavy chain. I've used this method for regular stem stitch and the anchor stitches have been invisible.
Pros of Using Anchor Stitches on a Line
1. The technique doesn't require much thread, so there's very little waste.
2. You can work solely from the front of the fabric. This is especially handy when you're working on a larger piece that's a pain to turn over.
3. It's fast – there's no turning over, running under, or anything like that. You jump straight in to stitching.
Cons of Using Anchor Stites on a Line
1. On the very finest lines, they could be visible. But … you can make them fairly invisible with a little practice.
2. I can't think of any other ones. Can you?