I noticed in answer to this month's give-away question ("what's your favorite needlework book and why?") many reader's named Trish Burr's books among their favorites. And this lead me to thinking. It seems to me (and I am open to correction on this!) that thread painting – or needle painting, or long and short stitch embroidery, or shading… whatever you wish to call it – has enjoyed in the last couple years a real boom in interest. It seems to me that three or four years ago, the technique was not as popular, and there certainly weren't as many resources available for pursuing an interest in thread painting.
Throughout the later history of embroidery – I'd say 17th c. and onwards – realistic shading in embroidery has been here, enjoying bouts of popularity. Of course, crewel embroidery employs techniques of long and short stitch shading. Then there's the "society silk" style of embroidery typical of the Victorian era through the early 20th century – a style that was all the rage, super popular, and employed similar shading techniques that we see in long and short stitch "thread painting" today. And here we are, now, in what I think is another bout of popularity in this embroidery technique.
If you've been reading along with me for a while, you know that I'm a big fan of Trish Burr's needlework and her books. Well, for those of you who are interested in the glories of thread painting, you'll be happy to know that Trish Burr has been really busy lately. Check out the following projects:
These rosebuds are a beginner's exercise in thread painting.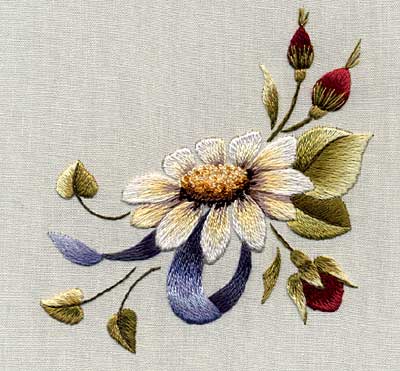 This daisy spray is also suitable for beginners. The style of the piece is reminiscent of Trish's latest book, Crewel and Surface Embroidery: Inspirational Floral Designs.
For beginners as well, here in an amaryllis! And finally, my favorite:
… a red poppy, a project more suited to intermediate level embroiderers who have already tried thread painting. I love the flower on this piece – the depth of color is lovely! And I also love the stem, made up of a very fine strand of Chinese silk, almost the size of a hair!
Aren't they beautiful pieces? I think they are, and I think they're perfect for learning the technique of long and short stitch shading. Trish apparently agrees, for it seems that, in the near future, she will be releasing kits for different levels of long-and-short-stitch stitchers! I'm really very excited about this! Kits like this are a great way to learn a technique!
While I haven't yet seen any of the kits in person, I can imagine that they will be very thorough in instruction, if Trish's books are anything to go by!
So there's your sneak peek on some upcoming needlework excitement! In the meantime, if you want to try your hand at needlepainting, why not take a look at Trish's website? She has a free little introductory project on there that you might have fun with.
So there's a nice little tidbit of needlework news for you! I hope you find it as exciting as I do!