In honor of St. Patrick's Day, here's a free hand embroidery pattern for you – a Celtic Cross. I suppose it might be a little late to stitch this up for this year, but if you like Things Celtic, I reckon you can stitch this up any time o' the year!
I took the design for this Celtic Cross from a little button and altered it a little bit. When thinking about how to embroider it, there are lots of options. You could just outline everything, using chain stitch or stem stitch. Or, you could get adventurous and fill in all the knot work with a filling stitch – satin stitch, stem stitch filling, chain stitch filling, or couching. You could get fancy, and work the design on a green background (velvet would be very rich) and use goldwork techniques to complete the design. Really, when it comes to hand embroidery, the possibilities are many and varied!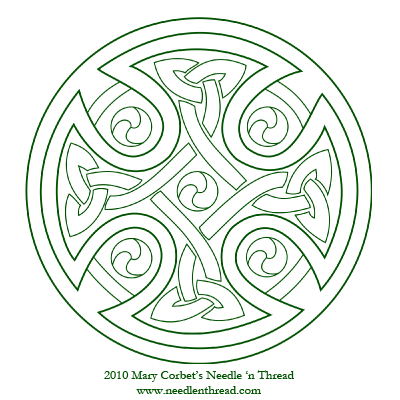 You can use a photocopier or photo editing software to scale the image up or down. Here's a PDF version:
Celtic Cross Design for Hand Embroidery
Enjoy it!
Looking for inspiration & information on hand embroidery?
There are all kinds of reasons to sign up for the Needle 'n Thread daily newsletter! Check them out and sign up today!