Lilly's Legacy of Hungarian hand embroidery patterns continues, with this combination of hearts and tulips in a medallion-shaped design suitable for embroidered cushions and household linens. Besides hand embroidery, the design is perfect for quilt appliqué, paper crafts, toll painting and stenciling, and myriad other applications limited only by your imagination!
The design was originally drawn by Lilly Baróthi Zathureczy in 1932. The various shades of browns accented with violet suggest that the design would work well in monochrome. What's interesting about this design is the use of cross hatching and fine line fillings in parts of the pattern:
Drawn thread or pulled thread fillings in there, perhaps?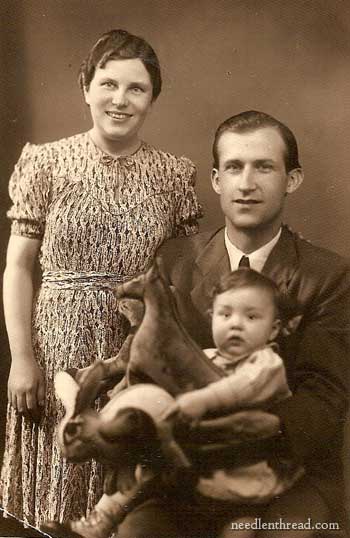 To add a little note of human interest to the design, here's a photo of Lilly and her family in 1940, which was six years after this design was drawn. If you're just tuning in here on this series of Hungarian hand embroidery patterns, Lilly's story is worth reading!
Here's the full pattern:
Hungarian Hand Embroidery Design #6 (PDF)
Because the design is so full, I didn't add any of the cross-hatched fillings, but if you're interested in seeing where they are, you can refer to the colored close-up image above.
Here's the corner of the design, enlarged, which can be repeated to form the full design:
Hungarian Hand Embroidery Design #6 – Corner (PDF)
You can scale either pattern up or down on a photocopier or your printer, to get the size you want for your projects.
If you're itching for something else to embroider, you can find plenty of other hand embroidery designs here on Needle 'n Thread, and you can also find all the other Hungarian hand embroidery designs from Lilly's Legacy listed in the pattern index.
Looking for inspiration & information on hand embroidery?
There are all kinds of reasons to sign up for the Needle 'n Thread daily newsletter! Check them out and sign up today!