When I think "scraps," the last thing that comes to mind is goldwork embroidery on velvet. But I'm not sure what else to call this! It's a remnant, certainly – the remains of something never quite finished, and then apparently somehow damaged… it's more than a scrap, though less than whole. But it's still neat to look at and wonder!
As "scraps" go, this is a fairly large one – it's a piece of velvet on which is worked a scattered pattern of swirls and flowers in gold and red beads, with a stippled background of small gold-colored beads. This was sent to me Magpie over at Magpie's Mumblings, with a little note saying that as she was cleaning up (she's moving!), she came across the piece and thought of me. Thanks, Magpie!!
I always think it's fun to examine pieces like this, so I thought I'd share my musings with you.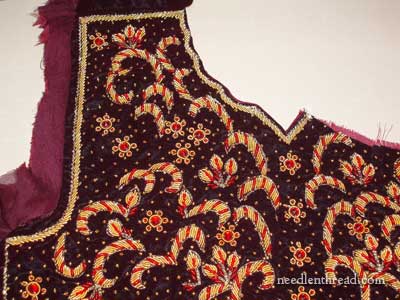 First off, what is it? It's the front bodice piece of something that was never finished, methinks. The front left shoulder is missing – looks like it was cut off – and the garment obviously never completed. I'm figuring it is Indian in make, from the overall design of the neckline, the banded waist, and so forth. It brings to mind a very dressy choli, though not quite as short as some, so perhaps that's what it was intended to be. But maybe not – it would make a rather heavy top, with the velvet layer, the lining, and the beads and goldwork.
The metal threads on this – purls – look like Sadi threads, and the larger beads in the center of the each flower element (as well as the small red seed beads) are plastic.
Around the neckline, you can see that the purls are sewn over a thick white cotton cord. The edge of every element made out of the purls is outlined with either a chain stitch or a zig-zag chain stitch, using a synthetic gold thread, and you can see the zig-zag chain stitch pretty well in the photo above.
So it's a little mystery piece: why would someone go to the trouble of making this much of the piece, and not finish it? Why the cut off shoulder? What would the whole outfit have looked like? Was the hand embroidery done by one person, making something for an individual, or was it some kind of commercial piece made in a factory, workshop, or even sweatshop? It was certainly made by hand – this type of metal work can't be done by machine – with synthetic metal and metallic threads, and it was certainly intended to be part of the bodice of something that would have looked very rich, with the velvet background and the gold embellishment. But beyond that, in the words of Schultz, I know nothing!
Any speculation? Any suggestions for use? I'm all ears!
Thanks again, Mary Anne, for thinking of me, and for making my day! It was a fun surprise!