This little Hungarian Flowerpot design comes from one of Lilly's drawings that features six bookmark-sized pieces. Instead of presenting all six in one pattern, I've decided to present them individually so that you can enlarge or reduce them easily, for whatever type of project you'd like to undertake with the designs.
You'll find the background story on these Hungarian embroidery designs with the first design posted, the Golden Circle design.
All of these designs can be adapted to a variety of artistic uses besides embroidery. Many readers have said they plan to work the designs as quilt appliqués, while others have suggested paper crafts or wood carving and the like as possible applications for the designs.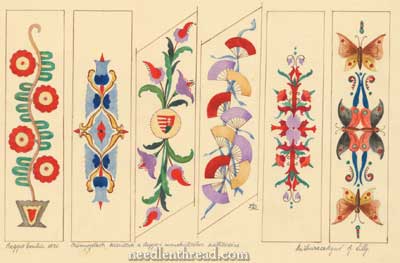 This is the whole collection of the bookmark-sized drawings. And this is a close-up of the Hungarian Flowerpot:
The green loopy leaves up the vine, combined with the symmetry of the flower placement, give the design a bit of an art-nouveau look, though there's certainly still an overall "folky-ness" to the design.
This is the line drawing:
And here's a PDF for ease of printing. The design prints out at 7″ tall, including the line border:
Hungarian Hand Embroidery Pattern: Flowerpot
And finally, here are links to the other Hungarian embroidery patterns from Lilly's Legacy:
Hungarian Embroidery Design #1: Golden Circle – includes the introductory story of Lilly's Legacy
Hungarian Embroidery Design #2: Floral Square
Hearts for Whitework
If you happen to work up anything with these designs, I'd love to see what you do with them! Feel free to drop me a line, if you'd like to send a photo!
Enjoy!
Looking for inspiration & information on hand embroidery?
There are all kinds of reasons to sign up for the Needle 'n Thread daily newsletter! Check them out and sign up today!