Have you seen Hazel Blomkamp's new book yet? It's called Crewel Twists, and it's a beauty! Published by Search Press, Crewel Twists is already available for purchase in the UK, and will be released to the rest of the world soon.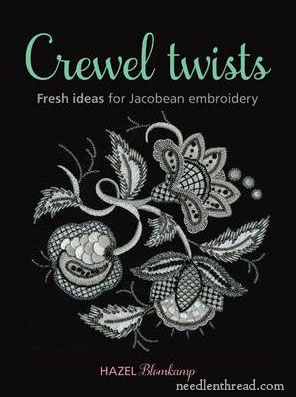 Crewel Twists is not your typical take on traditional crewel, although the techniques are much the same. Instead, Hazel combines beads and regular floss in her designs, so what you get are crewel-looking design, stitched with floss and beads – and wow! What a beautiful combination!
If you like the look of Jacobean embroidery and you like regular surface embroidery, using regular floss and combining lots of stitches and beads for embellishment, you will love this book!
The book begins with all the needful information about working an embroidery project, clearly laid out and discussed in a forthright manner that's clear and easy to understand.
One aspect of the book that I really like is that Hazel writes in a very direct, matter-of-fact voice. There's no pretension here; there's no highfaluting mumbo-jumbo about anything. It's easy to swallow direction, whether you're a beginner or an expert.
She peppers the book with little tips throughout, even in the introductory material. Her tips are direct and to the point, like this one: "You spend many hours working on a project. Use the best quality material you can afford." Boom. She says it. There's no beating around the bush here! And I like that!
There are several pages on threads, needles, beads, and supplies in general – all useful information, discussed easily and comfortably.
There's a nice bit on tools! I like tools, and I like to see them covered in a book. Sure, you only need a few tools to embroider, but it's good to know what other helpful items to have on hand to make your stitching sessions a success.
After the introductory material, you'll find a stitch gallery, with over 45 stitch diagrams and explanations. This include regular surface stitches, beading stitches, and needle lace stitches.
And then…. and then … prepare yourself for the projects. They are elaborate, but accessible. Some are a riot of color, others are subtle elegance. There are six projects in all.
At the beginning of each project, you'll find color photos of the finished piece. This particular piece was made into a fire screen. It's stunning!
For each project, there's a complete materials list, with all the threads, fabric, and tools required. The thread colors correspond with Anchor threads, but in the back of the book, conversion charts for DMC are available.
The project instruction is made up of a color photo of the completed stitch area focused on in the instructions, and in the accompanying text, the reader is taken step by step through creating each little section.
There are highlighted tips throughout, to help the stitcher through the project.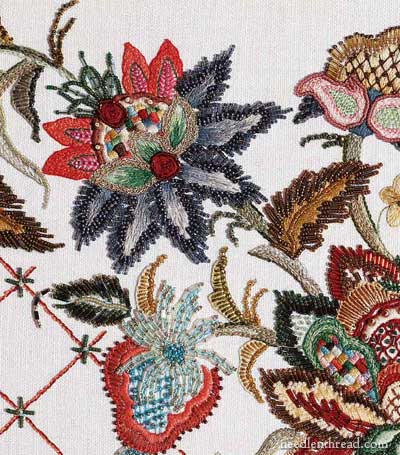 See what I mean by a riot of color? This photo gives you a close up sense of the variety of stitches and the way beads are used to embellish several of the projects. Fun!
This particular project is worked in grays and whites and silvers and black – an elegant combination.
Another elegant piece – a Jacobean-like design, worked in different needle lace stitches, in ecru-on-white. Very pretty!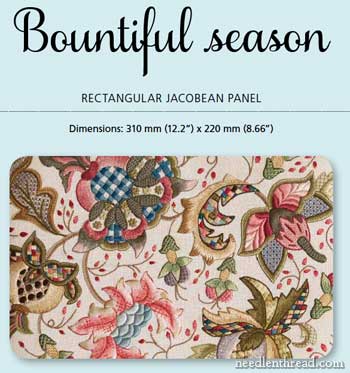 And back to color! I love this piece – it's straight embroidery, in a variety of stitching techniques, and so pretty!
Again, the back of the book, you find handy thread conversion charts…
… and, of course, you'll find all the patterns, in easy-to-trace line drawings that can be enlarged on a photocopier, when necessary.
Crewel Twists is a beautiful book of beautiful stitchery! I thought it was fun to read, I think the projects are really interesting twists on Jacobean designs, I like the fresh look of the projects and the incorporation of beads and multiple types of stitching that help make the projects fun and challenging, without being daunting.
If you're a lover of Jacobean styled designs, and you like embroidery projects that incorporate a variety of stitches, and you have a penchant for beaded work, I think you'll like this book!
Where to Find It
You can find Crewel Twists through the following book affiliates:
In the US, you'll find Crewel Twists available here through Amazon.
Worldwide with free shipping, you'll find Crewel Twists available here through Book Depository.