When you combine hand embroidery stitches in different ways, you never know what you'll come up with! And sometimes, you won't even know how to name the result.
I'm calling this the Chain Stitch Spider Daisy, or the Ribbed Spider Daisy, for two reasons: It's a daisy created with the detached chain stitch and the ribbed spider web stitch, and when you look at it from the side, the petals are a bit too reminiscent of spider legs!
If you don't particularly like spiders, I hope you'll forgive me for the name.
This is a neat little flower technique, if you want to add simple flowers with a bit of texture and color contrast on them to your embroidery projects. Top it with a bead for extra sparkle and bling!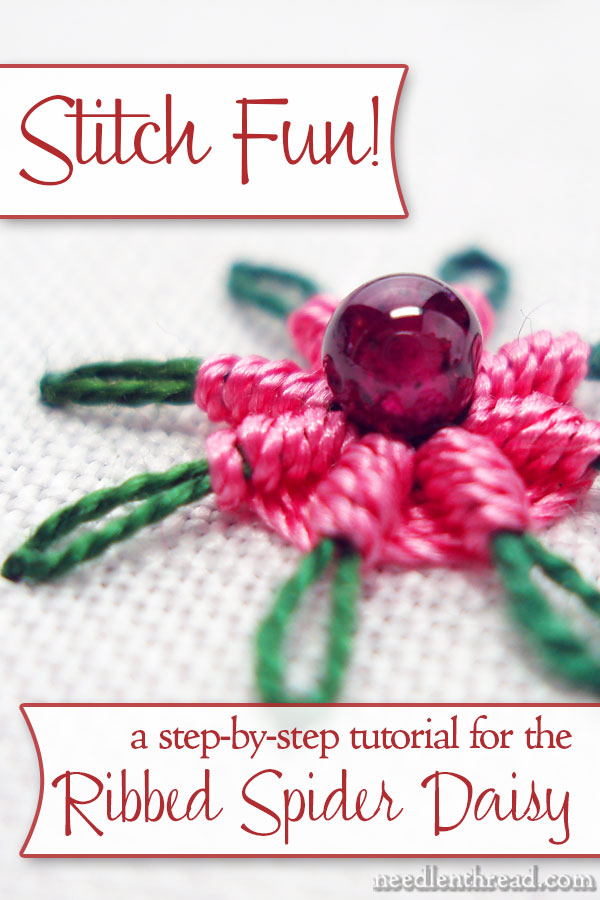 This is the little embroidered daisy that we're going to create. It's quite simple. It's a combination of daisy stitch (or detached chain stitch) and ribbed spider web stitch, both of which can be found in my How-To Videos here on Needle 'n Thread. If you need to see how the stitches are worked out, just check out the videos!
The flower starts with a basic daisy stitched with detached chain stitch. I used 8 petals because it's easy to space an even number of petals! You can use as many or as few petals as you wish. I'm using an overdyed perle cotton #12 for the flower petals.
If you need to, use a circle template and mark a dot at the center of the circle and then a series of evenly spaced dots around the outside perimeter of the circle, to mark where to start and end your daisy stitches. This helps keep your petals evenly spaced.
Or – you can just eyeball it!
I worked the ribbed spider web in a contrasting color, so after finishing the daisy, I threaded my needle with the new color, and began the stitch between two petals, right near the center of the flower. Mind you, you aren't coming up in the center, but just between the two petals, where they start to separate from each other as they fan out.
The thread I'm using for this part of the flower is a silk buttonhole twist. Work the ribbed spider web around the petals, gently pushing each stitch towards the center of the flower, and keeping an even tension on your thread. Be careful of pulling your thread too tightly, though – you don't want to pull the petals out of shape.
As you continue around the flower, use your needle to nudge the stitches in to keep them close to each other. A tapestry needle works well for the spider web stitch, because it's blunt on the tip and won't pierce the petal threads.
Around and around you go, filling in as much of the flower as you want!
I went around my flower five times. In the photo above, I'm on the last petal on the fifth round. You can see that I have only four wraps at this point on the last petal, where the arrow is pointing.
To end the ribbed spider web, take your working thread over the last petal to form the last wrap, and then enter the fabric, angling your needle underneath the petal.
You'll end up with a really cute flower, with lots of possibilities for further embellishment!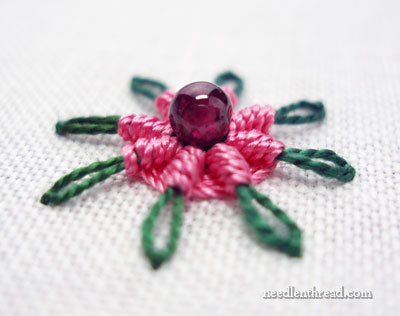 For example, you can plop a nice fat bead right in the middle.
You can also add beads to the outside of the tips of the petals, if you want – probably not as large as the bead I used for the center, though, or your flower might look a bit whacky!
New Series
To help out beginners and to inspire you with some new ideas for your stitches, I've started two new series here on Needle 'n Thread.
Stitch Play will focus on different approaches to embroidery stitches – altering them, combining them, and just playing around with them.
Stitch Glitch will look at how to solve certain stitch difficulties.
So every now and then, I'll be writing articles that fall under either category, in the hopes of providing you with help or inspiration for your stitching.
If you want to search for other posts in either series, just look under Categories for Stitch Play or Stitch Glitch. The categories are available in the lower right column here on Needle 'n Thread. You can also find the category link below each post in the category. For example, if you look beneath this article on the website, you'll see Stitch Play listed in the categories there, too.
If you'd like to see some Stitch Play with particular stitches, or if you'd like to see a certain Stitch Glitch (a stitch difficulty) solved, just leave a comment below and put in your request! What stitches do you want to play with? What techniques do you want to see explained? Have your say below!