Bead embroidery is one of is one of those types of needlework that you just want to look at and touch. I don't do a lot with beads myself, but I love, love, love to see what others do with them! The color, the sparkle, the texture – what's not to like about beads?
I think I was a crow in another life… I hone in on sparklies!
Today, it's a pleasure to share with you Velia's bead embroidered sculptures. Velia is a reader here on Needle 'n Thread, and when I spoke of curved beading needles last week, she wrote to tell me that she uses them all the time, but it took her a while to get used to them. She attached a photo of what she does with curved beading needles. And, of course, I wanted to see More! So she graciously allowed me to share her work with you.
I wanted to share it, because we all need a splash of color in our day!
This was the first photo I saw of Velia's bead embroidery sculptures. It's a hippo! A hippo encrusted with beads! And it is adorable!
Of cours, I wanted all the details – how big is he? What is he made out of? What size beads did you use? And Velia answered.
The hippo – get this – is a Beanie Baby! She took a beanie baby that she found at a thrift store and encrusted it with size 11 beads. The hippo is about 4″ long and, before beading, was about 1.5″ wide. (He's added a bit to his girth since then!)
A beaded Beanie Baby! Isn't that Brilliant?
But Velia also makes her own sculpture forms and beads them, too. Take, for example, Phyllis the Cat.
Phyllis is completely decked out in all kinds of beady bling!
Front and back, she is a feast for the eyes!
I love the beads around her collar and the green sequins and seed beads!
The Snow Maidens are little Matrushka dolls – there are three dolls, stacked inside each other here, from 3″ in size, to a little 1″ doll!
The colors, the sparkly star – a very aptly named Snow Maiden!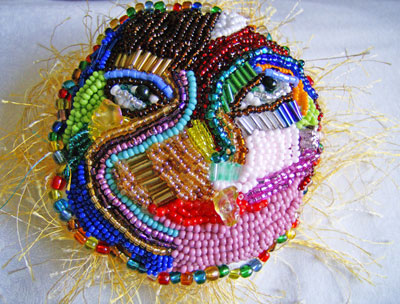 How about a beaded face?!
Lastly, among many more of Velia's little sculptures, I have to share this one – it's my favorite! This is a work in progress of…
… a little elephant! I love the eyes and ears on this piece – and the color on the hindquarters and back! I can't wait to see how this exotic little fellow finishes up!
Velia makes sculptures on commission, too, so if you have any interest or any questions for her, drop me a line, and I'll see that she gets it.
Thanks a bunch, Velia, for sharing your work! You make bead embroidery look so fun!