Whipping two adjacent rows of chain stitch produces a wide line with a rope-like center. This is a fun technique for creating a textured line, and it only takes a little imagination to see how you can incorporate this into your surface embroidery.
I can see it worked up into a caterpillar! I think it would also make an interesting and elegant off-white / white combination for textured whitework embroidery. I'm sure you can come up with many more possibilities!
This is the line we're going to achieve. You can see the wide, almost ruffled base of the stitched area formed by the outer edges of the chain stitch, and, running down the center, there's a little rope that sits up on top of that base.
In this sample, I'm working with a #12 cotton perle in the green and a #8 cotton perle in the purple. There's no reason for the two different sizes – and any size thread will work for this technique.
Start with two rows of chain stitch, adjacent to each other, with the chain stitches in both rows aligned. Bring the working thread that you're going to whip the chain stitches with to the front of the fabric, next to the lower row. In this demonstration, I'm using purple because it shows up against the green and you can see the stitch clearly. But you don't have to use contrasting threads – you can use the same color threads, depending on the look you want.
Take the needle underneath the inside halves of the chain stitches in both rows of chain stitch. You'll only pass under half of each chain stitch – the lower half in the top row and the upper half in the bottom row. Don't pick up any fabric.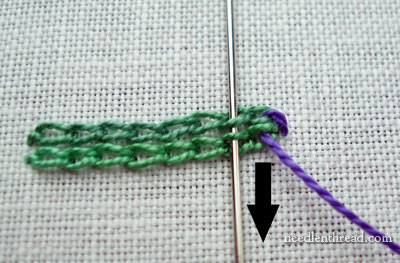 Continue down the whole line of chain stitches, picking up the inside halves of the chain stitches, and always passing the needle through the chain stitches from the same direction. You can see the arrow pointing down in both of the pictures above, to show you that I'm always taking the needle down from the top when I pick up the inside halves of the chain stitches.
As you work down the two lines of chain stitch, you'll see the rope developing in the middle.
When you get to the end of your line, take the needle to the back of the fabric at the end of the line, between the end of the two rows of chain stitch.
This is a fun little stitch to play with! Give it a try, to see what you can do with it! And then report back with all your ideas!
If you have any stitches or ideas you'd like to see worked out, why not leave a note below in the comment section, and I'll try to accommodate your request!