Yes, Books Review. I'm going to review two books at once, because they're both closely related, by the same author & publisher, and they're both So Much Fun that they deserver never to be separated.
The books are Bead Embroidery Stitch Samples and Bead Embroidery Stitch Samples: Motifs by Yasuko Endo.
If you like embroidering with beads, if you like embroidering little things, if you like embroidering on paper for cards and such, if you like embroidering on crazy quilts, if you like embroidering samplers, if you like embroidering decorative edges, if you like embroidering… if you just like embroidering, I think you'll like these books! They'll inspire many an idea for embellishing with needle and thread and beads.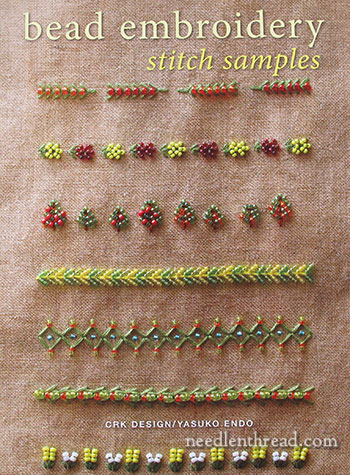 I'll start with the first of the two books, since it was published first.
Bead Embroidery Stitch Samples is an instructional and idea book for embroidering with beads. It concentrates primarily on decorative lines and bands worked in transitional embroidery stitches, with small seed beads added to the stitching.
Besides the decorative lines and bands that take up the majority of the book, you'll also find a cross stitch alphabet accented with beads, some filling and needle lace stitches accented with beads, a small selection of cross stitch motifs (Nordic folk motifs) accented with beads, and some individual floral motifs worked with surface stitches and beads.
But the majority of the book is devoted to decorative lines and bands, which can be used in many ways in all kinds of surface embroidery. And, of course, you can always take the decorative lines and bands off the "straight line" and adapt them on curves, circles, what-have-you. They make great frames around embroidery, and many of them would make terrific edging techniques on embroidered items.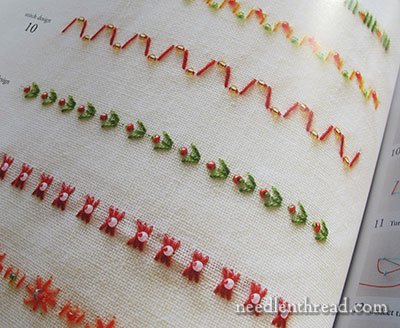 The organizational concept in both books is pretty simple. First, you get a page that shows each sample (and there are some 130+ samples), stitched.
Next to that page, you can see those very samples worked out step by step with needle and thread.
So, again, stitched sample on the left, corresponding step-by-step samples on the right.
Each of the stitched samples has a corresponding number next to it, and these numbers in turn correspond with further diagrams in the back of the book, where the stitch samples are arranged according to types of stitches.
You can see the diagrams are drawn diagrams here, and they are very clear. They include the step-by-step motion of each stitch, where to put the beads, and all kinds of little tips to ensure success with each sample.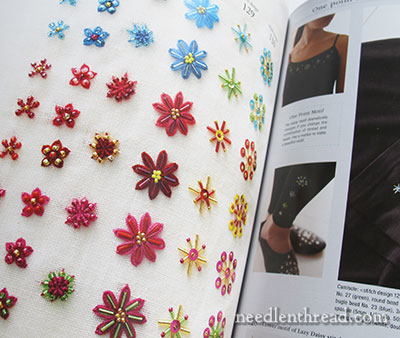 The book is packed with fun and colorful samples, and accented with several instances of how the various stitch samples can be put to use on clothing and made items…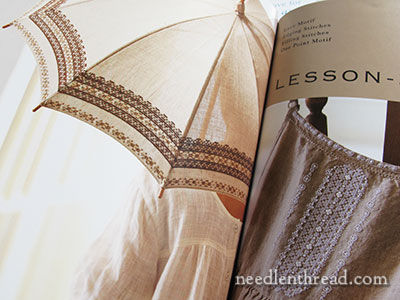 …like this parasol. I always thought it would be fun to make a parasol. I just don't know what I'd do with it, once I made it.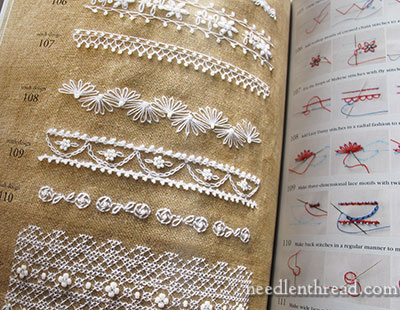 I especially like the lacy stitch and bead samples in the book. Delicate and Pretty!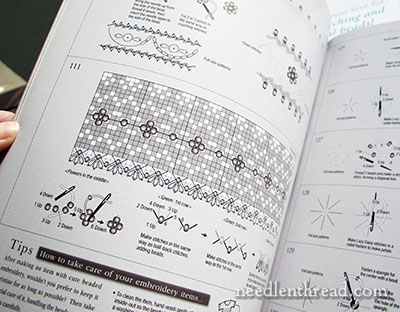 Again, turn to the back of the book, and there are all the diagrams, so that you can work out each sample yourself and adapt them any way you want to adapt them.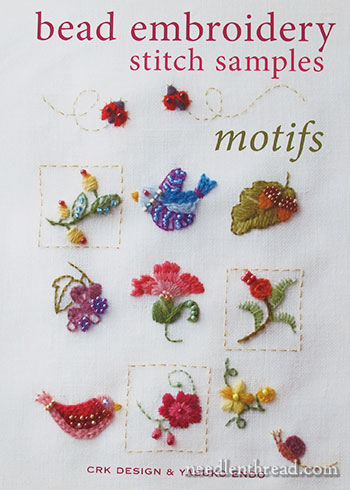 Bead Embroidery Stitch Samples: Motifs is the same concept as the previous book, but instead of mostly line stitching, here you'll find individual embroidered elements – from flowers to bugs to birds to people, items, and sundries – worked up with traditional embroidery stitches and beads.
This book is a lot of fun! There are many little individual elements that would work great for adorning embroidered little things – like the little things in my Lavender Honey & Other Little Things ebook. You could take any of these little embroidery and bead motifs and work up scissor fobs, needle books, pin keeps, ornaments, scissor pulls, buttons, etc. with them! Hundreds of options to keep you busy making gifts for all your stitching friends for the rest of your life!
I just love this book. But then, I have A Thing for little things. Acorns, anyone?
In the Motifs book, you'll find decorative lattice fillings…
…nature motifs, from flowers and birds to bugs and acorns and buds…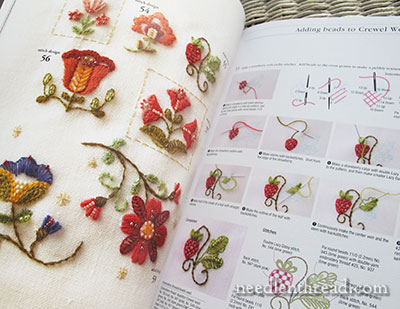 …stylized floral motifs…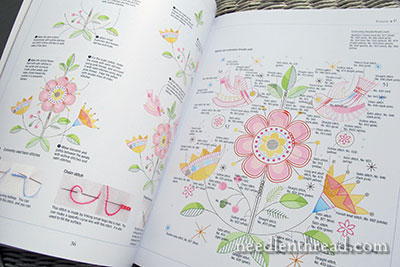 …larger motifs…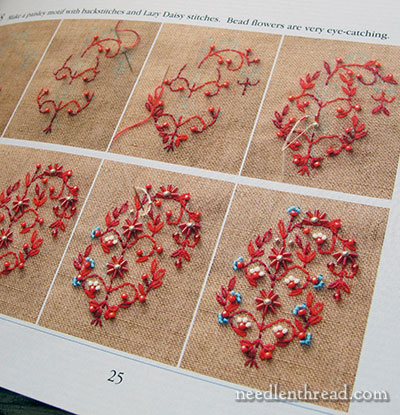 …paisley motifs…
…lots of clear diagrams for all the motifs…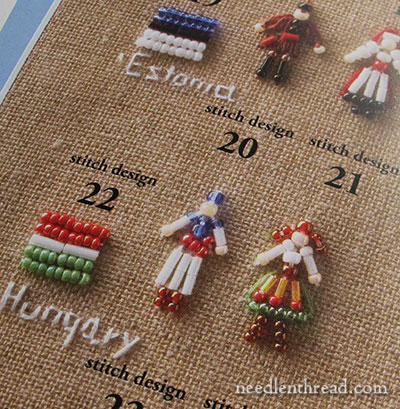 …even wee people in folk costumes from various parts of the world…
…and the sweets they eat, like cakes and cookies (with tea pots!)…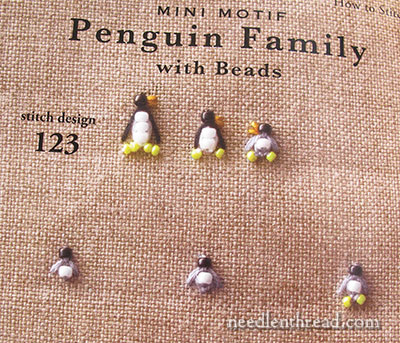 …and penguins.
Adorable penguins.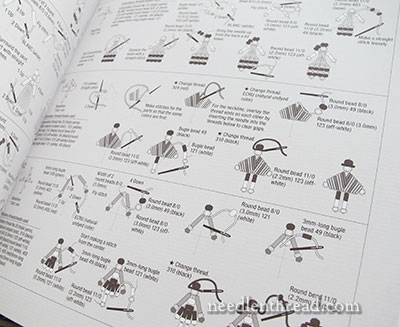 And every motif is further categorized in the back of the book, and worked out with clear diagrams.
Two super-duper fun books, full of exciting stitch samples composed of simple traditional embroidery stitches and beads!
Both books are suited for any level of stitcher. Beginners will find the books quite accessible, and novice and advanced stitchers will find loads of ideas and inspiration for brightening up their stitching repertoires and keeping the fun in their embroidery.
Where to Find Them
You can find both books through the following book affiliates:
In the US, you can find Bead Embroidery Stitch Samples and Bead Embroidery Stitch Samples: Motifs through Amazon.
Worldwide, with free shipping, you'll find Bead Embroidery Stitch Samples and Bead Embroidery Stitch Samples: Motifs at Book Depository.
If you're looking for other embroidery books to add to your needlework library, feel free to browse through my other needlework book reviews here on Needle 'n Thread, where you'll find all kinds of books on all kinds of embroidery techniques, for beginners and beyond.