How do you transfer designs onto your fabric to hand embroider? Personally, I think I've tried everything. Prick-and-pounce, transfer pen / pencil and light box; dressmaker's carbon, especially on larger designs; basted designs on, but that as a last resort. Come to think of it, I've even drawn the design on interfacing, and held my projects over my Ott light so that I can see the lines of the pattern. But until a few weeks ago, I had never even thought of Solvy.

The inspiration to try Solvy came from… Inspirations Magazine, appropriately enough. When I received the last issue, I noticed the embroidered children's book in it, and I took the time to actually read the article rather than just flip through and drool over photos. This is where I learned that a clear plastic stabilizer that dissolves in water exists, and that, if you trace your design in permanent ink onto the clear plastic, you can mount the plastic over your fabric in your hoop and actually stitch the plastic and the fabric together, following the design lines. Well, apparently the rest of the world has known about this stuff called Solvy, but I had never heard of it!
So I decided to take the plunge and try it, purchasing a sample of regular Solvy. It worked great on plain cotton fabric, for a very quick scrap of a try. But that wasn't really what I was interested in Solvy for – see, prick and pounce, transfer pen, or a regular light mechanical pencil works fine on regular fabric. What intrigued me was the idea of using Solvy on material with a nap, like velvet.
So this last weekend, I set about to try it. Here's how you do it:
1. Gather the supplies: Solvy (NOT ULTRA-Solvy – you'll see why); a permanent marker, such as the macro pens at art stores – though for the sample below, I used a Sharpie; your choice of fabric (a washable fabric is a good idea for starters, though I'm told you can use this method with anything, as long as care is taken); your threads and needles; and your design.
2. Unfold or unroll the Solvy, and give it time to relax a little. If you're going to trace where it's been creased, it helps to leave it sitting for a while unfolded.
3. Trace your design onto the Solvy. Be careful in the tracing – wobbly lines will give wobbly results! I messed up on my tracing right off the bat.
4. Place your inner hoop on the table, lay your fabric over it, right side up, lay the Solvy over the fabric, pen side up, and place your outer hoop over everything. Tighten the hoop, and tighten the fabric and Solvy, making sure that the fabric is not wrinkling underneath while the Solvy is fine on top. Tighten the hoop again, and pull the fabric again. Be moderately gentle with the Solvy.
5. Begin stitching as you normally would – you can set up a waste knot and just go for it. Especially on fabrics with a nap, you might want to use slightly more tension as you stitch, to compensate for the extra layer over the fabric.
Here's how it started out: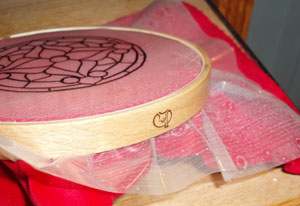 Here, I'm stitching on red cotton velveteen and using Ultra-Solvy. The Ultra-Solvy for regular surface embroidery is probably a bit much! It's like embroidering through a clear vinyl shower curtain or something! At first, it felt like I wasn't using my own hands to stitch, and I really had to get the hang of it. I missed being able to see the work – the color and texture of the threads, etc. – directly on the fabric. But the suspense was kind of fun!
Starting to stem stitch – you can see where I messed up on tracing the design. Nice thing is, I didn't have to worry about stitching over a line to cover it up, since I was planning to melt the whole thing off, anyway!
The picture doesn't really make it 100% clear, but at this point, I was pushing with all my might to get that needle to pierce the plastic! And it wasn't piercing it! The lesson: make sure you're using the right needle, and be patient until you get the knack of plastic-piercing.
I'm not left-handed, by the way. That was just for the sake of the photo. One thing you can't do with the Ultra-Solvy is use a 'sewing method' on the stitches (working only from the front of the fabric, never having to go to the back of the hoop with your hand). You have to use a 'stab method' to get through the Ultra-Solvy.
So that's getting started. I'm almost finished with the little medallion – it's a stained glass motif from a Dover publications book I had on hand (below). I'm working on cotton velveteen with one strand of soie d'alger by Au Ver a Soie. Once I'm finished, I'll show you the melting process!
If you've used Solvy before and have any tips or tricks, feel free to share them with the rest of us!
To see the rest of my Solvy Experiment, go here.
Tags