Flowers are often the subject of hand embroidery. Individually, they make beautiful motifs for gift items, for cards, for pillows and household goods, for small accents around the home, to embellish clothing or other items – the list could go on.
I thought it would be fun to present a series on elements of a flower garden – just small snippets from little embroidery projects I've worked, usually to use up bits of thread here and there or to test new threads.
The first flower in the series is the hollyhock…
These hollyhocks are somewhat stylized – that is, they look like hollyhocks in effect, artistic form, or context – but they obviously aren't meant to be an exact reflection of the flower!
The darker flowers are worked in hand-dyed wool, and the lighter ones are worked in two plies of stranded linen floss, all in buttonhole stitch. The centers are satin stitched in different types of silk. Some are flat silk with no twist and others are regular stranded silk.
The leaves are worked in fishbone stitch in two plies of stranded silk.
The stippling around the flowers are French knots, worked in two plies of stranded cotton.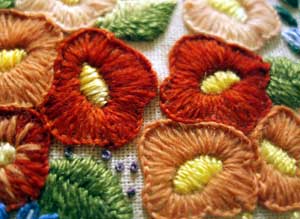 Here's a close up of the hollyhocks. The whole stalk of flowers is approximately two inches tall.
All of the stitches above will eventually be featured in the Video Library of Stitches, so stay tuned!

Tags