The feather stitch is a Great Stitch for creating vines and branches – anywhere you want something kind of twiggy and vine-like, the feather stitch will be of good use! It makes great "spray" backgrounds for floral embroidery, for example.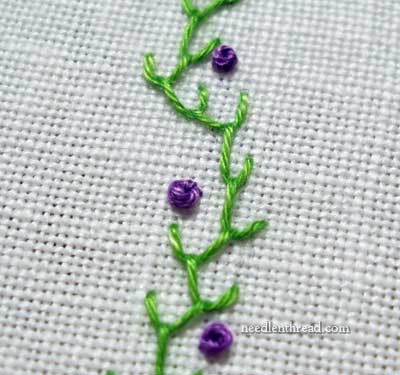 You can use the feather stitch for fantastic underwater embroidery scenes, too – think branchy coral! Feather stitch works well as a seam treatment in crazy quilting as well.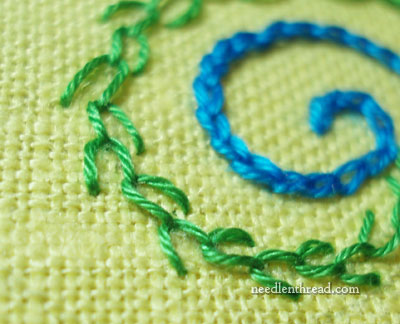 Feather stitch takes curves well. Just keep the center of the stitch on the design line, and you'll not have any problem adapting the stitch to curved and wavy lines.
Here's the video. I hope you enjoy it!
If you're looking for other hand embroidery stitch tutorials, feel free to visit my collection of embroidery stitch videos here on Needle 'n Thread!
Looking for inspiration & information on hand embroidery?
There are all kinds of reasons to sign up for the Needle 'n Thread daily newsletter! Check them out and sign up today!
If you like what you see on Needle 'n Thread, if you want to be a part of keeping the website thriving (and free of annoying network advertising), why not become a patron on Patreon? Check out my Patreon page here, where I'll occasionally add special needlework bonuses for patrons.
If you shop on Amazon, you can support Needle 'n Thread without any extra expense to you by visiting my Amazon Recommendations page here, where you'll find books and sundries for the needleworker available on Amazon.