The wheat stitch or the wheatear stitch is a variation of the chain stitch. It combines the chain stitch with little diagonal barbs, resulting in a line that resembles an ear or stalk of wheat.
You can use the stitch to embroider a stalk of wheat, by adding a little straight stitch to the top of your line, as I did in the video below. Or you can simply use the stitch as a decorative line stitch.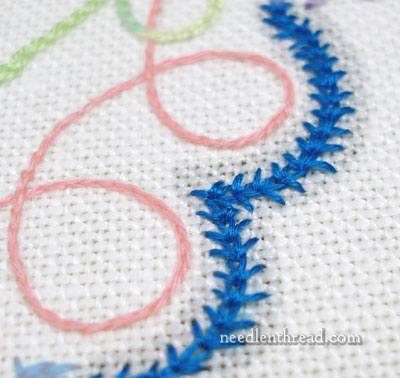 Any type of thread works for this stitch. If you want a very fine embroidered line, or a delicate ear of wheat, use one or two strands of regular floss. The line above (in blue) was worked with floche, and in the first photo, the bold and heavy line of wheatear stitch is worked in perle cotton.
Here's the video for the wheatear stitch:
If you're looking for other hand embroidery stitch instructions, feel free to visit my collection of hand embroidery stitch videos!
Looking for inspiration & information on hand embroidery?
There are all kinds of reasons to sign up for the Needle 'n Thread daily newsletter! Check them out and sign up today!
If you like what you see on Needle 'n Thread, if you want to be a part of keeping the website thriving (and free of annoying network advertising), why not become a patron on Patreon? Check out my Patreon page here, where I'll occasionally add special needlework bonuses for patrons.
If you shop on Amazon, you can support Needle 'n Thread without any extra expense to you by visiting my Amazon Recommendations page here, where you'll find books and sundries for the needleworker available on Amazon.